VietNamNet Bridge – Six Vietnamese-made films are being shown in cinemas nationwide this month.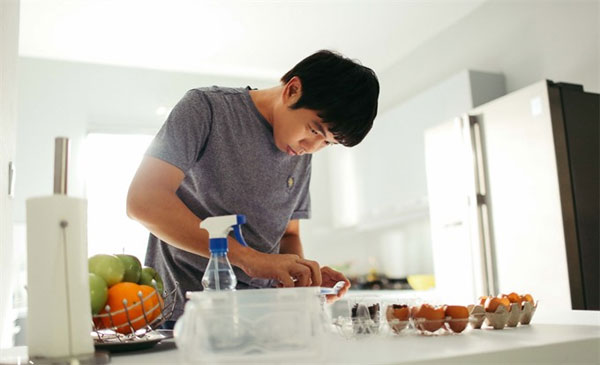 Comic actor Thai Hoa in comedy Chang Vo Cua Em (My Mr. Wife), the latest project from Vietnamese-American director Charlie Nguyen. Photo courtesy of the producer
Moviegoers are eager for the comeback of comic actor Thai Hoa and Vietnamese-American director Charlie Nguyen in the comedy Chang Vo Cua Em (My Mr. Wife).
The duo were successful in such films as De Mai Tinh (Fool for Love), Teo Em (Little Teo), Cuoi Ngay Keo Lo (Love Puzzle), and Fan Cuong (Fanatic).
Chang Vo Cua Em is adapted from the English novel Busy Woman Seeks Wife by Annie Sanders, featuring the love story of a homely man and a successful woman.
In an interview with local media, Charlie said it was the first time he had adapted a film from a book, which was set in the UK.
The movie will be different from the book, but he will keep the novel's spirit about the differences between social classes.
The director invited young actress Phuong Anh Dao, who recently rose to fame with films Em Gai Mua (Rainy Girl) and Nham Mat Thay Mua He (Snow in Summer), to play a leading role along with Thai Hoa.
Chang Vo Cua Em will be released on August 24.
Another long-awaited movie this month is Song Lang, a romantic drama about cai luong (reformed opera), a genre of traditional theatre in the South which began 100 years ago. 
Directed by Leon Quang Le, the film features the cai luong troupe Thien Ly in Sai Gon in the 1980s, and focuses on the challenges that cai luong artists face to preserve their art. 
It also centres on the career of a young performer, Linh Phung, who makes sacrifices to pursue his dream.  
"I hope my film will entertain and educate audiences, particularly young people, who should have better understanding of Vietnamese theatre," said Leon. 
He invited pop singer and actor Issac, winner of the Rising Star of Asia's Star Awards at the 21st Busan International Festival in 2016, to play the leading role of Linh Phung.
"Singing cai luong is a big challenge. I was under pressure during shooting. My role in Song Lang marks a new process in my film career," said the 30-year-old Issac, who spent hours a day to practice singing and dancing cai luong with experts.
The film will be in cinemas on August 17.
Loi Ket Ban Chet Choc (Dream Man) is a horror film by Vietnamese-American director Roland Nguyen Nhan, who earned a Master's of Fine Arts at the University of Southern California.
The film sends a message about the dark side of social media and depicts the loneliness of youth in today's society.
The movie will feature young actors and singers Thanh Tu, Thanh Duy Idol, Dam Phuong Linh and Lý Binh, who has appeared in many film projects in recent years.
Loi Ket Ban Chet Choc began filming in 2015 and will be released on August 10.
This month also sees the release of comedies Truong Hoc Ba Vuong (Fight Back to School) on August 3, Tim Vo Cho Ba (Bride for Rent) on August 10, and Hoan Doi (Switched) on August 31.
The productions feature young actors Yang Mi and Nha Phuong, together with popular comic actors Viet Huong and Tran Thanh. 
Source: VNS