VietNamNet Bridge – We took a trip to Vac Village in the western part of the central province of Nghe An. On Google Map, Vac Village is just a small dot that appears very far away.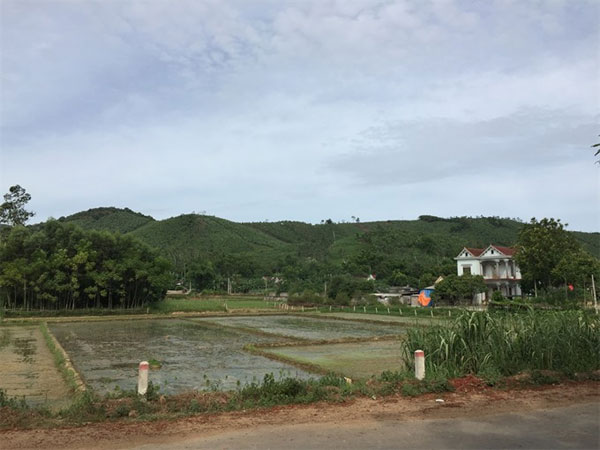 National treasure: Every centimetre of soil at Vac Village contains evidence of history.
From Ho Chi Minh National Highway passing the Phu Quy area, we turned right and drove straight for dozens of kilometres toward Thai Hoa Town.
I was a little surprised at the appearance of a young urban area rising on the ancient land with offices, residential houses and bustling streets.
On the main road Nguyen Trai, we turned onto a street heading to the south named Lang Vac. We followed that road to the outskirts of the city, passing several kilometres of low and high hills.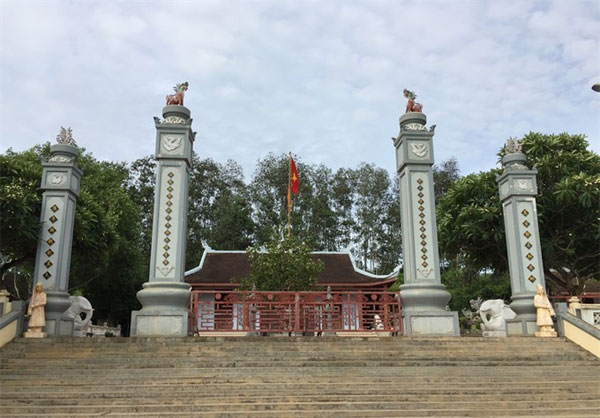 Welcome: The entrance gate to Vac Village's temple.
Vac Village is beautiful, with tranquil houses hidden under the shadows of big green trees. Locals seem to be wealthy—they have big, new houses.
I got the feeling that in this thousand-year-old land, generation after generation has led a simple and hard-working life.
Along the road passing a big marshland, we visited Vac Village Temple, which has been renovated as part of a plan to restore and develop tourism at the ancient relic site.
The temple was built on a high hill site, resting on Ru Giang Mountain and looking over an area of lake and dams.
More than 20 staircases lead to the main temple with ancient style pillars and white stone sculptures of elephants. The complex hosts various temples dedicated to the Hung kings and Mother Goddess, plus an exhibition hall displaying ancient objects. The man-made structure mingles with green trees to create a solemn and graceful atmosphere.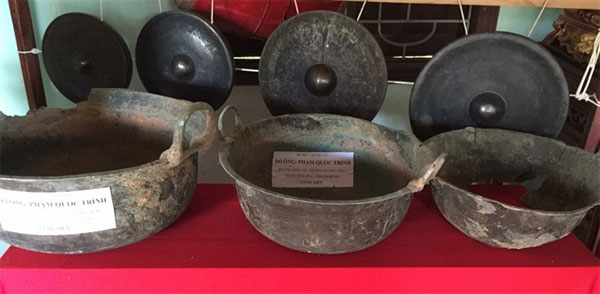 Revealed: Bronze objects displayed at the exhibition hall.
At the exhibition hall, visitors can find materials and objects revealing the history of people in this area 2,000 years ago. The most important objects unearthed from the site have been displayed at national museums in Hanoi and at culture centres in the world. A small number of objects have been kept here, many of which have been donated by locals.
During the fierce American war of destruction against North Vietnam, archaeologists excavated the site for the first time in 1972. From then until 1999, the site was excavated five times with support from Japanese experts.
The scientists found out that it was a typical excavation site, showing abundant evidence of ancient Vietnamese civilisation of over 2,000 years ago.
Sacred: A temple at the site.
After five excavations over a total area of 3ha, more than 370 tombs were discovered, making it the site with the greatest number of tombs among all ancient Dong Son civilization areas.
Thousands of bronze and ceramic objects, especially 14 bronze drums dating back 2,100 years ago, were unearthed at the site, which proves that ancient people of the bronze era used farming tools like hoes and had a diversified spiritual life.
"The early community in Vac Village was comprised of mountain residents in Nghe An Province, who made contributions to the formation of the Vietnamese people in early history," said Nguyen Giang Hai, director of the Viet Nam Archaeology Institute.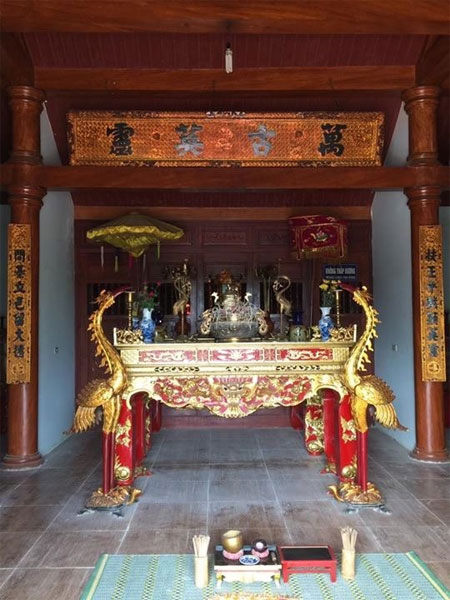 Quite old: An altar inside the temple.
Researcher Hoang Xuan Chinh from the same institute held that the Vac Village archaeological site can be compared with other noted relics of the Dong Son civilisation in the Hong (Red) River Delta, like Vinh Quang, Ca Village, Son Vi, Go Mun or Phung Nguyen in present Phu Tho Province.
"I also think it's at an even higher level in terms of importance," he said.
"Especially at the time [1st century BC], Chinese Han invaders conquered the country," he said. "They plundered and destroyed bronze drums. They aimed to destroy Lac Viet's culture. Yet people in Vac Village still kept bronze drums and other objects proving their thriving identity in the period."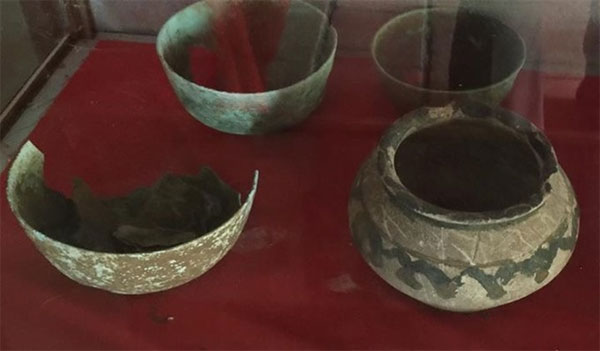 Pottery: Ceramic objects unearthed at the site.
According to Pham Van Thach, deputy chairman of People's Committee of Thai Hoa Town, the Nghe An authorities approved a plan to establish a preservation site for the Vac Village Archaeological Relic covering 156ha in 2012.
The plan has turned the village into a national historical and cultural relic site combining ecological tourism, a game complex and a research centre.
"Beside temples and exhibition halls, other functional buildings like an administration area, models of ancient houses, an archaeological site, research centre and boat dock will be built," he said. 
By Tran Mai Huong
Source: VNS