VietNamNet Bridge – Diners were treated to extravagant food and wine pairings in a private dinner party at T-Art in the heart of Ha Noi's Old Quarter on Tuesday. "I'm very happy that T-Art has been receiving rave reviews and has been rated five stars by the diners only," said Thai Thanh Thuy, the establishment co-founder.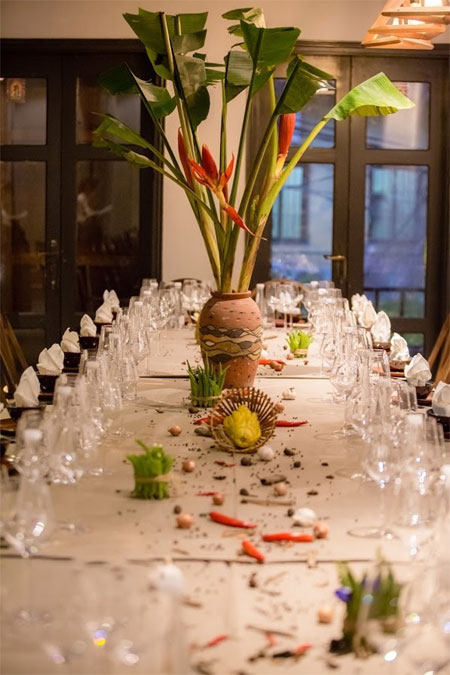 All set: Decorated dining table set in the country life mode. Photo courtesy of The T-Art
Focusing on serving Vietnamese cuisine in the most modern and artsy way, Thuy has been working with chef Hai Anh, a popular cook and author to work on a special menu. Anh previously worked at the Nineteen 11 Restaurant in Hanoi and Veranda Resort in Phu Quoc.
"I would like to bring you back, with this menu, on a journey back to your prime time," she said opening the party. "Imagine you're at your parent's home, having your most favourite dishes on a beautiful summer afternoon, feeling the sweet smell of jasmine from the front yard."
The three-on-a-stone-placard appetizers promised a great party ahead: tamarind crab on a shrimp cracker, beef with mustard leaves roll and mini-frogmeat fried pancake.
After the warm-up chatting downstairs, we walked two flights of stairs to the main big room. A beautiful party table decorated with all kinds of spices and peppers, fresh chili and onions. A nice aroma of spice filled the room accompanied by contemporary Vietnamese music.
Followed on the southern trait of the appetizers, the starters delighted the diners with the crispy pan-seared pho with prawns and the sweet and sour of banana flower and young coconut root salad.
The pan-seared dish needed to flame in the food so diners could feel the smoke while eating.
I had never met Chef Hai Anh before though I had dined at the T-Art several times before.
This time she had done something quite bold: Putting pigeon and fish as the main course on one plate. And she did something even bolder with the wine pairing, putting the pigeon and fish with red wine.
"This is absolutely amazing," commented someone at the table. "I don't know how you made it, Hai Anh," she said, "but your pigeon tastes so good, it feels like meat, red meat."
Hai Anh's fish was no stranger to Vietnamese eaters: stewed fish in a clay pot. Improvising the signature stew dish from Dai Hoang Village in Ha Nam Province, Hai Anh was brave trying to pair it with red wine.
"Every drop of sauce on the plate counts," she said. Each bite gave a surprising and flavourful taste to go with the fishy texture.
As for desert, the yogurt wrapped around fermented black rice was a delight.
The party went on in the downpour of summer rain outside, which submerged a large part of the outskirts of Hanoi. It was a treat for those who ventured out into the rain earlier that evening, to support the efforts of the T-Art team to treat Vietnamese food in an artistic way and bring it to a new level of appreciation and gratitude. All the new dishes will be available in the new menu starting from August 10.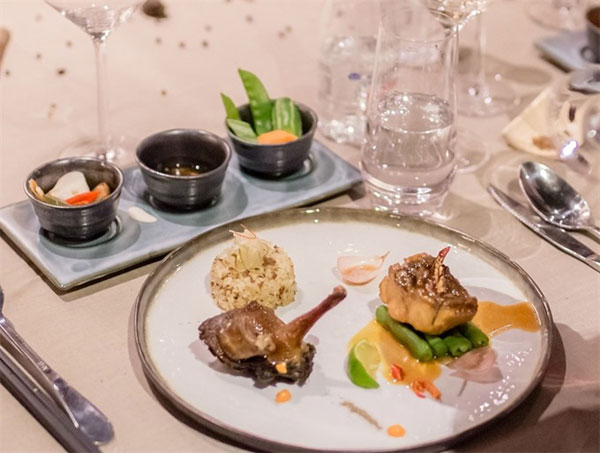 Possible of the impossible: Having pigeon and fish on the same plate, try it out.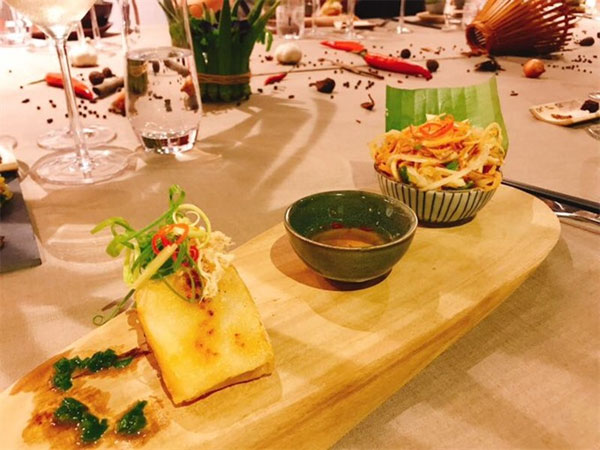 Getting started: Pan-seared 'phở" with shrimp stuffing and banana flower & coconut root salad.
Source: VNS