VietNamNet Bridge – Despite his tight schedule with new film projects in the US, the director of Hollywood blockbuster, Kong: Skull Island, Jordan Vogt-Roberts, has still managed to contribute to Vietnam's film industry.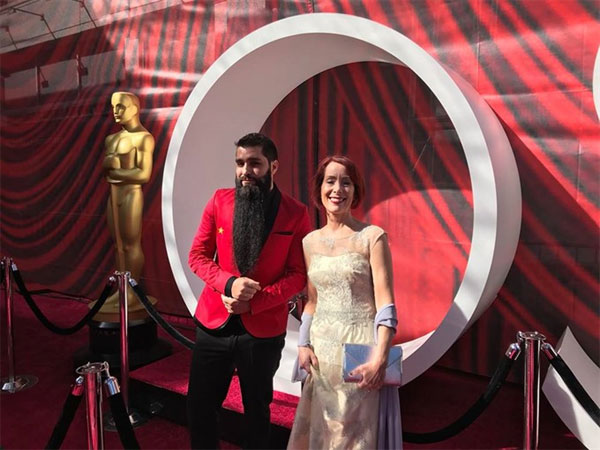 Kong: Skull Island's director, Jordan Vogt-Roberts, poses with his mother on attending the Oscar awarding ceremony this year. The Film is nominated for Visual Effects for Oscars 2018. — Photo Jordan Vogt-Roberts's Facebook
Most recently, he was among three judges of Vietnam's 'The 48 Hour Film Project', together with Vietnamese director Phan Gia Nhat Linh, cameraman Bao Nguyen and producer Jenni Trang Le.
Though the American director was absent from the awards ceremony on Sunday, Vogt-Roberts sent a video of himself announcing the top prize, which was awarded to a short film entitled Duong Mat (Imaginary Friends).
According to him, Imaginary Friends, which evolves around a mission of a gang, is a harmonious work of both content and technique that showcases features typical of Vietnamese cinema.
The film will represent Vietnam to compete in the International 48 Hour Film Festival that will be held in the US at the end of this month.
Vogt-Roberts recalled, in the early years of his career, he made several short films in difficult conditions, lacking both money and time. However, such experience rewarded him with excitement and a sense of freedom. The Kong director added that he still treasures such moments of enthusiasm.
Earlier, Vogt-Roberts returned to Vietnam to launch a scholarship fund for Vietnamese students in the arts and cinematography. The fund will offer two full scholarships worth US$90,000 each for four years of study at a university in the US.
Last year, he was named Vietnam's Tourism Ambassador for 2017-2020 by the country's Ministry of Culture, Sports and Tourism in March. He is the first film director to take on the position, which aims to promote Vietnam to the world.
Not long after being named tourism ambassador, Vogt-Roberts was brutally assaulted in a bar in Ho Chi Minh City, an incident he and GQ journalist Max Marshall discovered had been perpetrated by Vietnamese-Canadian gangsters, one of whom has been arrested in India on unrelated charges.
Vogt-Roberts said he was working with the ministry to make music videos about tourist destinations in Vietnam to introduce the sites to international audiences.
 "I have also invited American directors and actors to visit famous tourist destinations, including Sapa of Lao Cai Province, Son Doong Cave of Quang Binh, and Da Nang," he added. 
Vogt-Roberts' Kong: Skull Island was the biggest Hollywood movie ever to be filmed in Vietnam. The blockbuster, whose backdrop was mostly shot in Vietnam landscapes in Quang Binh, Ninh Binh, and Quang Ninh provinces, earned more than US$142 million in ticket sales globally and $6.6 million in only Vietnam, after just two weeks of release.
Source: VNS