The Muong are the fourth-largest of Vietnam's 54 ethnic groups. The Muong people inhabit northern mountains, mainly in Hoa Binh and Thanh Hoa provinces, where they still maintain their unique culture, an important element of which is Dum singing.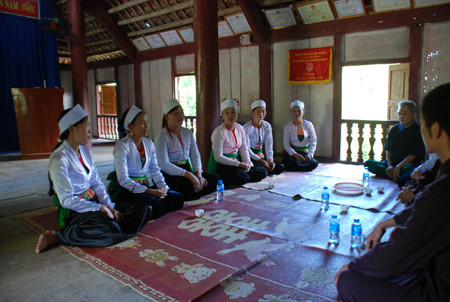 Dum singing is important in the spiritual life of Muong people. They sing about their lives, customs, and production and to greet and express their love to others.
Dum, a form of call and response singing, is performed at weddings, house-warming parties, festivals, and singing contests.
Dr. Nguyen Thi Hang of the University of Social Sciences and Humanities in Hanoi, has done extensive research on the Muong. She said that in the past, boys and girls performed Dum singing at festivals while exchanging Dum balls, which are made of red cloth, stuffed with betel, an areca nut, and a coin.
Ms. Hang said, "Dum singing is a kind of call-and-response singing between boys and girls. They are often love songs, so Dum singing is performed at spring festivals when peach and apricot flowers are in full bloom."
The lyrics of Dum songs reflect the lives of Muong people - greetings, love, crops, traditions, customs, New Year exchanges, and love of the homeland.  Dum singing also shows off the knowledge of the participating boys and girls about Vietnamese folk culture, and traditional music, and is an opportunity for young people to find a partner and express romantic feelings.
When Dum is sung in groups, each group sends out a representative to sing with the backing from the other group members, accompanied by musical instruments. One person sings and another responds.  
Anyone who fails to respond loses the competition. This music form tests one's knowledge and let boys and girls express their love. The singers must know a lot of sayings and stories. Dum lyrics also echo the rituals and customs of the Muong people.
Truong Thai Vien, a Muong artisan in Thanh Hoa province, said, "We have 4 or 5 Dum melodies. When a singer modifies the melodies, the other has to response accordingly."
Dum is sung at work, at communal houses, in pagoda yards, and at festivals. At festivals, Dum songs often continue from the morning until late at night. Dum lyrics are informative and poetic.
They use images of nature to express people's emotions. But the melody of Dum is rather simple and rhythmic. Using just a few basic notes, Dum songs have their variety and richness in the lyrics.
When a boy has feelings for a girl, he approaches her. If the girl feels the same way, she lets the boy hold her hand, and they sing a love duet. The songs are full of love and the hope of meeting each other again.
VOV5