Heritage Space in Hanoi's Nam Tu Liem District will hold the FILM storyteller 24 program with a screening of Japanese New Wave movie "Woman in the Dunes" on July 28, starting at 7 p.m.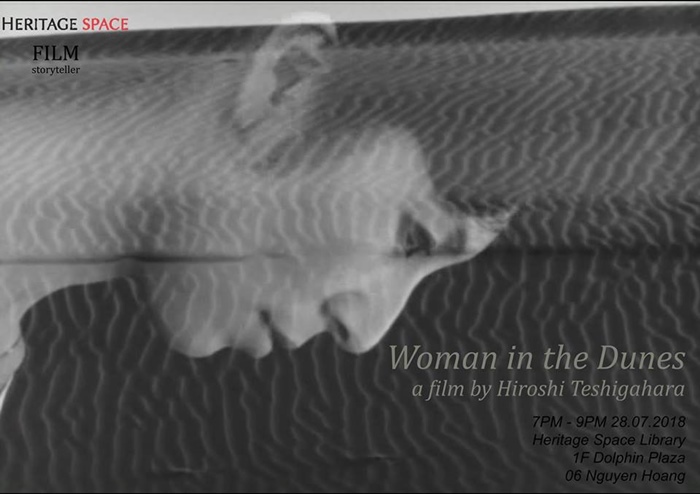 "Woman in the Dunes" was directed by Hiroshi Teshigahara and based on a novel of the same name by Kōbō Abe. The novel was published in 1962 and the film was released in 1964.
The film is about Jumpei Niki, a school teacher from Tokyo who visits a fishing village to collect insects. After missing the last bus, he is led by the villagers, in an act of apparent hospitality, to a house in the dunes that can be reached only by rope ladder.
The next morning the ladder is gone and he finds he is expected to keep the house clear of sand with the woman living there, with whom he is also to produce children. He eventually gives up trying to escape when he comes to realize returning to his old life would give him no more liberty. After seven years, he is proclaimed officially dead.
"Woman in the Dunes" received positive critical reviews, with an average rating of 8.7 out of 10 on review aggregator site Rotten Tomatoes, and was one of the ten best films chosen by Russian filmmaker Andrei Tarkovsky.
The film won the Special Jury Prize at the 1964 Cannes Film Festival and the Grand Prix of the Belgian Film Critics Association in 1967. Teshigahara was nominated for the Best Director at the 1965 Oscars.
The movie will be shown in Japanese with Vietnamese and English subtitles. A discussion of the film will take place at the end of the screening.
Entrance fee is VND30,000 per person and free of charge for members of Heritage Space Library. One free drink and popcorn will be served.
SGT