The beauty of lacquerware and its production methods are explored in a new exhibition.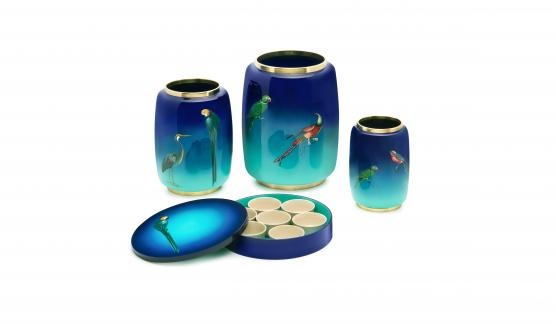 The collection of lacquerware named Exotic, products of Hanoia. Photo courtesy of Hanoia
The exhibition, Lacquerware – From Inspiration to Reality, shows the unique shapes, splendid colours and decorative patterns symbolising Eastern culture created by Hanoia.
Visitors will have the chance to discover the process behind Hanoia's lacquerware, its inspiration, its choice of materials, its traditional know-how and its technical breakthroughs.
Each Hanoia product has gone through many stages which require passion and creativity of the designers, as well as patience, concentration and the skills of the craftsmen to give it a unique character.
Hanoia was first established in 1997 in Binh Duong Province by a team of Vietnamese craftsmen, together with a team of foreign designers. The village had been making lacquer products since the 14th century. It aims to preserve the Vietnamese lacquer tradition.
The exhibition will run until July 30 at Hanoia House, 38 Hang Dao Street, Hanoi. — VNS