VietNamNet Bridge – An exhibition showcasing origami works of art, titled Nhung Doi Canh (Wings), will open to the public on Friday at Vincom Centre for Contemporary Art.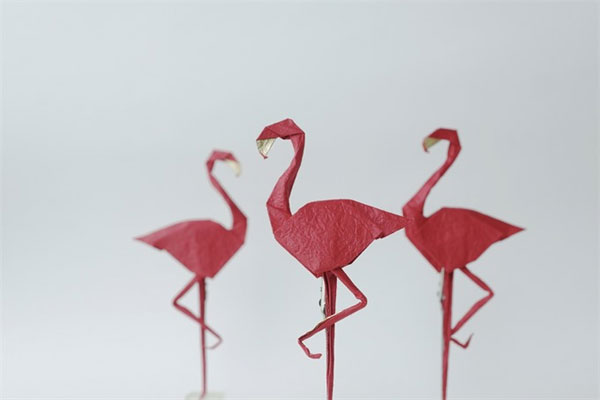 Paper bird: Flamingo of Nguyen Linh Son. The symbol of the origami crane goes beyond Japan to spread the message of luck and peace to the world.
The exhibition, featuring 52 works by artists Le Duc Tho, Nguyen Linh Son and Le Tuan Tai, will introduce Vietnamese art lovers to the beauty and soul of the Japanese art of paper folding, origami.
Mizuki Endo, Art Director of VCCA, said, "Origami has quite a simple means of expression, yet the technique is very complex. Origami has deep meaning and this is a wonderful art for everyone."
The 52 works of art in Wings will depict the unique mythological world of animals like the one-horn horse and the dragon. It proves the endless creativity that origami art can bring. 
All origami works exhibited will be donned with a wing – a symbol of creativity and freedom in art.
The highlight of the exhibition will be a giant horse model, which artists will make together inside the exhibition space over 10 days. It is planned to be three metres high.
A timelapse video featuring the artists' journey of making the giant work will be screened on August 5.
Origami art is an indispensable part of Japan's cultural life. It is a craft to enhance people's mindfulness and cleverness and a psychological therapy to train people's patience, persistence and creativity.
The symbol of the origami crane goes beyond Japan to spread the message of luck and peace to the world.
Traditionally, it is believed that if one folds 1,000 origami cranes, their wish will come true. Therefore it has become a symbol of hope and healing during challenging times.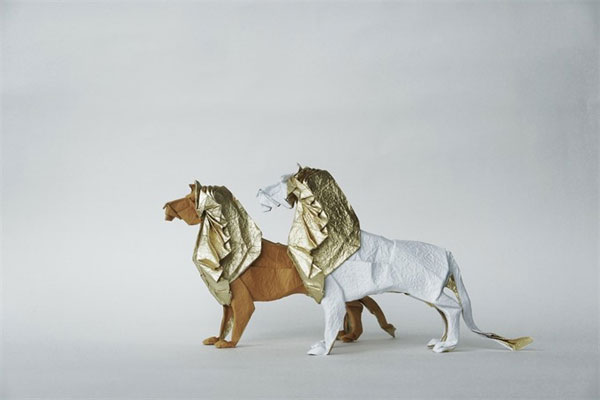 Roar: Lion of artist Nguyen Linh Son. The origami exhibition will give audiences a glimpse of Japanese culture. — Photos courtesy of VCCA
Besides 52 works exhibited to highlight the beauty and richness of origami art, VCCA also creates an origami experience space for visitors, who will then learn about the art and participate in the process of making origami works of art. Those made by visitors will be displayed in a space named Happiness.
As part of the exhibition, the organiser will offer art performances for kids, which is expected to evoke the imagination and the creativity of kids and give them a colourful glimpse of Japanese culture. Origami folding classes will also be offered in the time of exhibition with the hope to bring this art closer to the public.
The exhibition runs until August 15 in VCCA, 72A Nguyen Trai Street, Hanoi. 
The three artists whose origami works are exhibited in the event are all young but have had long experience with origami. 
Le Duc Tho has had his works exhibited in several exhibitions. His work is also displayed in galleries in Singapore.
Nguyen Linh Son has worked with origami for more than 10 years. He wowed art lovers with his record-setting works like a dinosaur skeleton that is 7.6 metres long and a set of two origami dragons that are 5.6 metres long each. 
The 21-year-old Nguyen Tuan Tai has been doing origami since 2009. His works are also displayed at big events and exhibitions. 
Source: VNS