Vietnamese artist Hoang Ngoc Tu has won three prizes at the recent Copenhagen International Choreography Competition.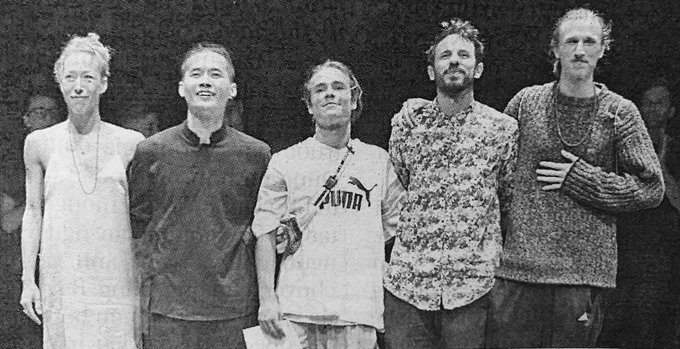 Hoang Ngoc Tu (second from the left) at the Copenhagen International Choreography Competition. 
He won the third Prize for Young Choreographer, Audience Vote Prize and Production Prize.
The first prizes went to Zigan Krajncan and Gasper Kunsek from Slovenia while the second prize was given to Luca Signoretti from Italy.
Tú performed a dance titled Trial as his own experiment in contemporary dancing.
Tú graduated from the Faculty of Ballet at the Viet Nam Dance College in 2006. This is the first time he has taken part in a contemporary dancing contest.
Born in Hanoi, after graduating from the college, he worked as a dancer at the Viet Nam National Opera Ballet. Since 2007, he has continued to work at various theatres and companies in Switzerland, Germany and the Netherlands as a contemporary dancer.
Though he is now based in the Netherlands, he returns home from time to time to organise workshops on contemporary dance.
The Copenhagen International Choreography Competition is a platform to discover and promote emerging contemporary choreographers.
The contest has been organised annually since 2008, attracting talents from around the world, and has become one of the most recognised choreography competitions in Europe.
Exposure from the contest has launched the careers of many talented artists. — VNS