VietNamNet Bridge – Young writer Quach Le Anh Khanh is known as a "publishing phenomenon" in HCM City. Since 2012, he has published a book every year, 900,000 copies of which have been sold out so far. Poet Le Minh Quoc considers him a representative for today's young writers, who focus on simple topics mingled with philosophy and themes that readers can relate to.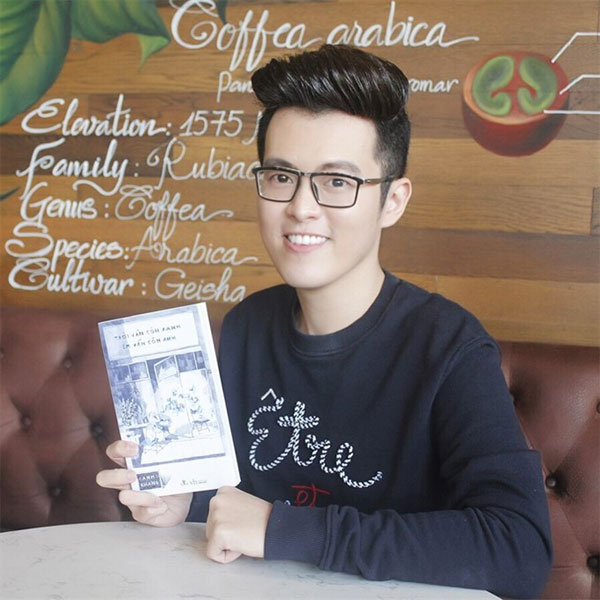 Writer Quach Le Anh Khang. Courtesy Photo of Anh Khang.
Le Huong talks with him about his work:
You are one of the best-selling authors in HCM City. What do you think makes you so successful?
I have never thought of writing a book for it to become a best-seller. All that I have written are my true feelings, true memories that I have experienced.
There is this saying that I learned in school: "What stems from the heart will reach hearts."
I think the sincerity in my feelings has touched other souls who share much in common with mine.
There are many young people who have experienced their first love who share the same feelings with me.
The lines I write are like friends soothing them, encouraging them to overcome ups and downs and other obstacles that young people may meet.
How did you decide to dabble in literature? What challenges and advantages do you have?
Literature and I seem to have been a good fit since I was small. In junior high school and high school, I was part of a class specialising in literature. I won various prizes in literature for talented pupils. Then I was able to enter the Journalism and Communications Faculty of HCM City's Social Sciences and Humanity University without having to sit for the entrance exam.
I think my road to literature has been as simple as a straight line. I also think it's because writing is a strong talent and a hobby for me at the same time.
After graduating from university, I worked as a journalist for more than seven years, during which I mostly covered economic topics. It was then that I realised I had written about others enough and it was high time for me to write about myself. That was when I made the switch from writing articles to writing books.
What topics do you like to write about?
So far, love has been my main topic. Maybe that's because I'm young and love is what young people are interested in. Everyone has gone through youth. When you are young, you think you have the right to make mistakes. Young people know they still have a long life ahead of them, so they have enough time to make mistakes and correct themselves. That may be the reason why young people always spend so much time in love. Love is always connected to "youth" and "stupidity". We, the young people, have the right to be stupid, so we fall in love with the wrong person, then fall in love with another yet again. Once we get out of that maze, we are no longer young. Then the way we see love will no longer be innocent and fresh. That's why I have written mainly on love, which is a gift given to the youth.
Do you choose to write the way you like or the way readers want you to write? What do you think about present readers? Who are your frequent readers?
I have just published my seventh book, but until now I still don't think I have a certain style. I write purely out of inspiration, meaning I can write only when I have something to share from inside. This is like what poet To Huu wrote: "Tho chi tuon ra khi trong tim ta cuoc song that day" (Poetry only comes out when our hearts are full of life).
Writing to me is not a strict career that requires me to sit by the table 8 hours a day or have deadline, plan, or strategy. I just write my real feelings when I have a certain inspiration.
I have never regarded people who buy and read my books as readers or fans or whatever. I just consider them my "friends". Although I have never met them, they have met and understood me through my books, so I consider them "friends in literature". I don't want to give any comments about them. I think 50 per cent of my audience buy books as a personal hobby, and the rest are just destined to buy those books. We love a book like we love a person. I have always respected my fate with the people who read my books. From the many choices available, they choose my books.
My readers range from teenagers to older adults. I remember when I signed my books to give to readers, I was surprised that some of the readers were quite old, even older than my parents. They patiently waited in long queues to get my signature. The last time I visited the Nguyen Van To Secondary School, after I signed books for all of the pupils there, I discovered that their literature teacher was standing in line. When her pupils said they would be happy to let her get my signature before them, she said, "No, I will queue just like all of you."
I am moved by and highly appreciate the support I get from older audience. In a time when hearing and seeing have overtaken reading, it's great to see someone pay money for a book, let alone join meetings with writers and stand in line for the author's signatures. Writers like me must regard this as a huge encouragement and honour that should be appreciated.
Which writers do you like?
I like classical Vietnamese literature. Nguyen Du's Truyen Kieu (Tale of Kieu) is my favourite book.
I like ancient poems by Vietnamese writers like Nguyen Trai (1380-1442), Nguyen Binh Khiem (1491-1585), Doan Thi Diem (1705-1748), Nguyen Du (1766-1820) and Ba Huyen Thanh Quan (1805-1848). I know by heart all of their poems.
J.K. Rowling is an influential writer that I like. She is a great inspiration to me. I have lost myself reading Harry Potter at school. The time Rowling spent on Harry Potter and what she has done for her community inspire me so much.
What have you learnt from them?
What I have learnt much from those writers is the way they use words. You will see in my books that I always take great care when using words or writing sentences, in such a way that I put rhythm in verses. I'm highly influenced by Vietnamese poets from centuries ago. When I was still in school, my teachers taught me to analyse each word and phrase and why the great authors choose this word instead of that word even though they have the same meaning. That's why in my writing, I choose my words very carefully to evoke a hidden purpose inside.
How do you always get inspired?
I can write only when I have inspiration. I may not write anything for months and then go to a restaurant and suddenly become inspired by a dish or a snack that I ordered. In my book titled Ngay Troi Ve Phia Cu (Time Flowed Back Towards the Old Days), I have a piece that has been shared a lot on Facebook. The title of the piece is Tiramisu Co Ngot Khong Em (Is tiramisu sweet, darling?).
I wrote the piece within 10 minutes of entering a café and ordering a tiramisu cake. I remembered that was the very cake I and my ex-girlfriend used to eat together. That time, I ate the cake alone, without my ex-girlfriend next to me. I felt a sense of nostalgia and immediately wrote the piece. I ate the cake and searched what tiramisu means in Japanese. It turned out to mean "please don't forget me".
I prefer writing by hand, as I think the habit of writing by hand on paper or a notebook is gradually becoming rare now that people prefer typing. I want to keep the freshness of letters and I think writing by hand is a way of meditating. When I write something, I forget all the disturbances that surround me, and I just focus on the page.
What's your next plan?
If you follow me, you know that I publish a book every year. I have published four prose collections, two short story collections, and one travel diary book. I think next year I will publish a poem collection and a novel.
What's your philosophy in daily life and in writing?
It sounds too broad to me. I think I just simply need to commit myself to my passions, then I can live my life properly.
I think as writers we should be sincere with our feelings, which we get from our own experiences. No one can live on others' experiences. And if a writer wants to touch others' hearts, he/she should write sincerely from his/her feelings.
Source: VNS