VietNamNet Bridge – Among the many jobs to which millions of people aspire – doctor, lawyer, entrepreneur – music instrument repairer is not likely on the list. And in Vietnam, where jazz music is a niche passion, Nguyen Khang, a saxophone repairer, dubbed "Dr Sax", in HCM City, is in a class of his own.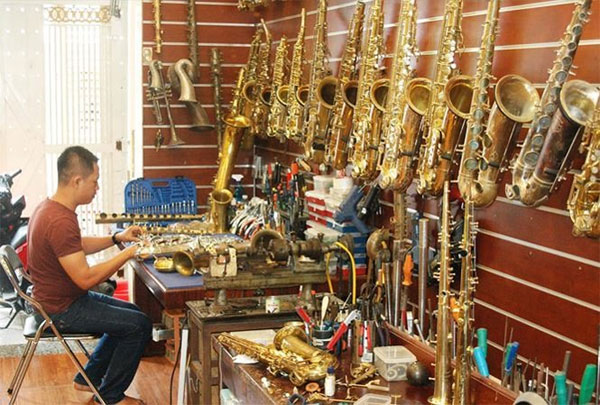 Making repairs: A corner of Khang's saxophone "hospital". - Photo Tien Phong
Khang's family moved to the South long ago. Khang's grandfather was a music instrument repair technician for the military. The family often received broken instruments from churches and artists, and Khang started learning from his grandfather when he was only 10 years old.
"I was in fourth grade, so I didn't understand the dedication of my grandfather to repairing instruments; he considered it a sacred job," Khang recalled.
"One day, during an instrument repairing lesson, I left to hang out with my friends and didn't come home. When I came back, my grandfather had already fixed the broken instrument. He was really upset because he thought I did not care about the instrument; he threw it on the floor and made its condition much worse. The two of us then had to fix it all over."
Khang didn't know that his grandfather's anger had not only taught him the importance of commitment, but it also gave him a practical lesson he would use years later.
Once, when Khang went abroad to participate in a repair competition held by a big saxophone insurance brand, he had to fix broken instruments using limited materials as fast as he could. Khang completed the task successfully and was honoured to be appointed as the brand's only recommended instrument repairer in Vietnam.
 Collecting instruments from around the world
The Western saxophone and flute has many variations, while Vietnam only produces the simpler varieties. Being an instrument technician requires a variety of parts for the instrument, and Vietnamese saxophones are often so old that the brand has stopped producing them, as the market here has too few players. Therefore, there is a lack of necessary spare parts whenever a customer comes to Khang with broken instrument. If he orders the parts abroad, the cost for fixing will be very high and finding customers is difficult.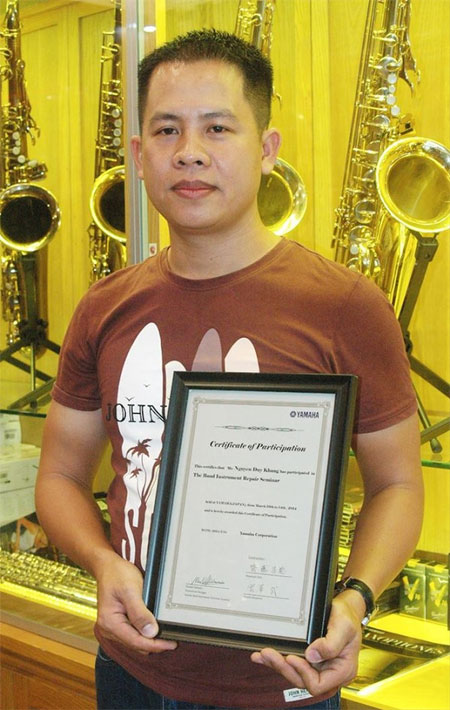 International acclaim: Nguyen Khang with his professional saxophone technician certificate issued by the Japanese government - Photo Tien Phong
With the dream of becoming a professional saxophone technician, Khang travelled around the world to collect spare parts. Spending his own and borrowed money, Khang went to Europe to find saxophones that were used in a different time.
"In other countries, they don't sell old stuff like in Vietnam, so I didn't know where to find old parts for saxophones. I had no choice but to knock on the doors of every instrument brand that I know and told them: 'In Vietnam we have a lot of broken instruments made by your company but a lack of components to fix them. Please help us'," Khang said.
The companies welcomed him and opened their stores and sold him old instruments and components at a discount price. "Through my trip to Europe, I bought 2,000 instruments from the companies and sent them back to Vietnam by ship," he said.
At an interview in a newly built repairing workshop in Tan Phu District, HCM City, Khang said: "In order to become a proper instrument technician, I had to sacrifice my personal pursuits. I used to collect many old, unique saxophones and never intended to sell them to anyone. But after focusing on fixing saxophones, and becoming "Dr Sax", I changed my mind. I thought that a good saxophone should be played by performers instead of being kept to myself. So I sold all of my collection ever since I decided to focus on repairing work."
Beyond passion
When I visited Khang's workshop, he was fixing an old sax of renowned artist Quyen Thien Dac from Hanoi.
"Quyen Thien Dac doesn't possess many saxophones, but each one is valuable," Khang said. 
A saxophone takes one week on average to repair. There are two technicians in Khang's worksho, but Dac's sax has always been fixed by Khang himself.
Dr Sax happily shared: "Many international artists who perform in Vietnam also come to me to have their instruments repaired. After a long journey overseas, subjected to the changes in weather and transportation, as well as a long time of use, the saxophones need a check-up and repair."
In Khang's home there are around 300 saxophones. He spends most of his time repairing customers' instruments, but also makes some on his own. Khang's dream is for more people to learn to play the sax every year.
"The price of foreign saxophones is very expensive," he said. "My dream is to be able to produce saxophones in Vietnam at an affordable price."
by Tran Nguyen Anh 
Source: VNS