VietNamNet Bridge – Eighty-five leading travel enterprises were honoured at the Việt Nam Tourism Awards 2018 organised on Monday in Hà Nội by the Việt Nam National Administration of Tourism (VNAT) and Việt Nam Tourism Association (VITA).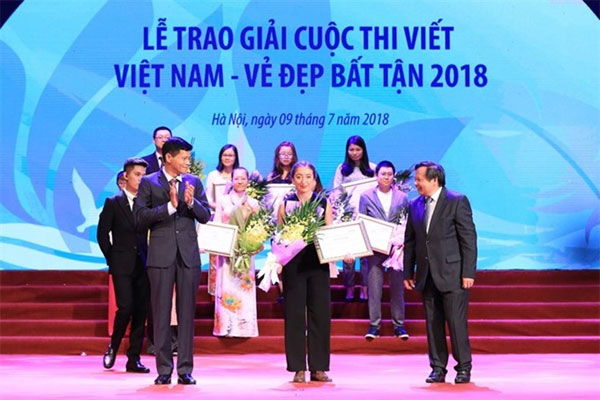 Nguyễn Văn Tuấn, chairman of the VNAT (right) granted the award for top English writing for Ana O'Sullivan. — Photo courtesy of organize 
The awards have been held annually since 1999, contributing to enhancing the quality of tourism products and services, and creating a chance for travel enterprises to develop new products and brands, according to Nguyễn Văn Tuấn, chairman of the VNAT.
"This is the highest award granted to travel agencies, domestic tour operators, inbound and outbound tour providers, hotels and hospitality services providers and carriers in the country," he said.
"It encourages travel businesses and helps to build tourism into a key economic sector."
Deputy Minister Vũ Đức Đam and Minister of Culture, Sports and Tourism Nguyễn Ngọc Thiện attended the ceremony.
The most important category included businesses which have contributed to the development of the Vietnamese tourism industry: Vinpearl Company, Sun Group, Mường Thanh Hospitality, FLC Group and Thiên Minh Group. 
Leading destinations in Việt Nam include Hạ Long Bay (Quảng Ninh), Sun World Ba Na Hills, Thần Tài Hot Spring Park (Đà Nẵng), Vinpearl Nha Trang (Khánh Hòa) and Vinpearl Phú Quốc (Kiên Giang).
Leading golf courses include the Bluffs Hồ Tràm Strip Vũng Tàu (Bà Rịa - Vũng Tàu Province); Bà Nà Hill Golf Club, BRG Đà Nẵng Golf Resort, Montgomerie Links Đà Nẵng (Đà Nẵng City); Sky Lake Resort & Golf Club, Long Biên Golf Course (Hà Nội), FLC Sầm Sơn Golf Links (Thanh Hóa Province); Laguna Langco Golf Club (Thừa Thiên-Huế Province); Long Thành Golf Club (Đồng Nai Province) and Sealinks Golf & Country Club (Bình Thuận Province).
The awards for top five-star hotels go to Intercontinental Danang Sun Penisula Resort, Naman Retreat, Fusion Maia Đà Nẵng, Hyatt Regency Danang (Đà Nẵng City); Sofitel Legend Metropole, Melia, Sheraton (Hà Nội); Vinpearl Phú Quốc Resort (Kiên Giang Province); InterContinental Nha Trang, Evason Ana Mandara, Vinpearl Nha Trang Bay Resort & Villas (Khánh Hòa Province); Vinpearl Halong Bay Resort (Quảng Ninh Province); Bến Thành Rex Hotel (HCM City); Dalat Palace (Lâm Đồng Province); and Indochine Palace (Thừa Thiên-Huế Province). 
The winners of a writing contest titled Việt Nam – Timeless Charm, organised by VNAT and Lao Động (Labour) newspaper, were also announced.
Launched in October last year, the contest aimed to draw engaging entries on the beauty of Việt Nam and its best tourism assets.
The organisers received 800 entries from Vietnamese and foreign writers who had visited or are living in Việt Nam. They provided ideas and their feelings on various destinations, travel tips and suggestions to develop tourism.
Ana O'Sullivan won the top prize for best English entry.
Source: VNS