Acrobatic artists and brothers Giang Quoc Co, 24, and Giang Quoc Nghiep, 29, were placed fifth in Britain's Got Talent 2018 recently with their death-defying, head-balancing act of walking across tiny platforms suspended high off the ground during the show's finale on June 3. My Phuong and Phuong Mai speak to them about the challenges they faced and their feelings during and after the show.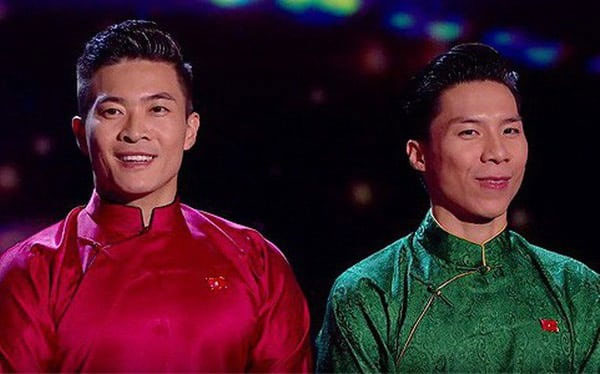 Circus heros: Quoc Co (right) and Quoc Nghiep came fifth in Britain's Got Talent 2018.
Why did you decide to compete in Britain's Got Talent 2018?
Quoc Co: After breaking the world record for the "most consecutive stairs climbed while balancing a person on the head" in Girona, Spain in 2016, we received invitations from many international talent competitions. But we turned them down. The organisers were surprised and didn't know why we had turned down such programmes.
Quoc Nghiep: We wanted to choose the most famous competition. We didn't expect a victory, but just wanted to promote the Vietnamese circus and people to the world. Thanks to our fans' support and encouragement, we accepted the invitation from Britain's Got Talent.
How long did you prepare for the competition?
Quoc Co: Six months. Actually, we didn't spend all the time to practise, because we have our own families. But we made every effort to practise as much as we could.
A day before the competition, the organisers made a mistake in the stage design for your performance. What happened?
Quoc Nghiep: We saw that the background screen featured Chinese culture. We questioned the organisers and they said they thought Asian culture was similar. After our explanation, they recognised the differences in Vietnamese culture.
Quoc Co: We worked with the organisers. If they had not changed the background, we would've cancelled our competition.
In the finale, Quoc Co held Quoc Nghiep on your head and walked up tiny platforms before completing a long jump to a bigger platform to finish your performance. How did you prepare for the act?
Quoc Co: We were ready for the final act. It was highly risky doing the last jump.
We had always used a safety cable during rehearsals. However, in the final, we got rid of the cable so we could have a more exciting performance. When we did the jump, all the judges and the audiences in the auditorium were speechless and stood up.
A day before the finale, Quoc Nghiep had an accident and got hurt. I was scared and sad. We thought all our work would be useless.
People may think that our performance was too dangerous. Actually, it was extremely risky. On my head was not only my colleague and my friend. He was my sibling. If I caused my brother to fall, I would feel pain and sorrow.
We prayed a lot before the finale. Everyone prayed for us. If we failed, both of us would have been broken-hearted. Quoc Nghiep's life depended on our performance. It was a jump of fate.
I was under deep pressure at this time. I forced myself to concentrate on protecting my brother. Everything was OK as his feet were on the platform. Fortunately, our performance was successful.
How did you overcome your fear?
Quoc Nghiep: A day before the finale, I had an accident during practice and thought all our work would be hopeless. I was afraid that I would not be able to move due to the injury. Although my arm was severely hurt, we tried our best because we had huge support from Vietnamese audiences. We wanted to project a positive image about Vietnam to the world.
In the rehearsal, we decided not use a safety cable but I was worried about my previous fall. We decided to get rid of the cable in the finale. It worried me a lot.
During the performance, I did not dare blink. I gave my life to my brother. I tried not to think (about anything) at that time. It was a long time before Quoc Co was able to prepare for the jump. If it worked, I felt that I would be grateful to God for our luck. If not, I would have never blamed my brother. My wife said that thousands of people in Vietnam were praying for us.
When facing danger, people often think of their families and then panic. How about you?
Quoc Co: I was under pressure from my family, particularly my wife, who is always worried about my health. I had to console my wife and tell her that we were not doing dangerous things, and we would succeed. If we were lucky, millions of Vietnamese would welcome the miracle we made.
That was why we chose our Vietnamese army uniforms for our costumes. We wanted to show off our belief. We were ready for war, not a real one, but a war of emotion. We wanted the world to know about Vietnamese patriotism and our iron will.
At the beginning of the competition, people believed that we just had a typical act (balancing my brother on my head without walking up stairs) because we had been performing in the circus for years. They didn't know that after passing one round, we had to do better in the next round.
At first, people may have not worried much about us. But when we entered the semi-final and then the finale, people were afraid that the performances would be too difficult and dangerous.
My father always stood by us. He prepared and checked the safety cable. He wanted to ensure his sons' health and lives. My wife called me and spoke about ensuring my safety. I had to tell her that my performance was not difficult and I could do it.
My feelings blew up when seeing my parents, my wife and son at the airport after returning from the UK on June 6.
What about Quoc Nghiep's injury after the fall?
Quoc Nghiep: I came to see the doctor right after returning to Vietnam. He helped me feel better and reduce my pain.
Quoc Co: We can't control the danger. We just do our best to avoid it and try to give our best performance for the audiences. It was Quoc Nghiep's fourth fall.
After returning, we wanted to host a live show at the end of this month to show appreciation to our fans. But we've cancelled it because of my brother's injury that occurred during practice. 
By My Phuong & Phuong Mai
Source: VNS