VietNamNet Bridge – Last week, acrobatic brothers Giang Quoc Co and Giang Quoc Nghiep received a certificate of merit by the Viet Nam Culture, Sports and Tourism Minister Nguyen Ngoc Thien for their performance in Britain's Got Talent 2018.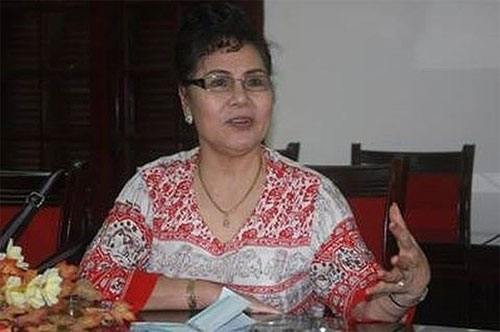 People's Artist Nguyen Thi Tam Chinh, head of Viet Nam Circus Association.
The acrobats performed a head-balancing act of walking across tiny platforms suspended high off the ground in the final of the British TV talent show early this month.
Head-balancing is developed from Suc Manh Doi Tay (The Power of Arms) performed by Co and Nghiep. The Power of Arms has been performed by the duo for more than a decade and made them popular in the country. It is among the repertoire of the HCM City Circus Troupe and has been showcased at many international circus festivals.
It has earned the acrobats several top prizes at home and abroad including at the Grand Prix Prize and the Audience Award at the International Summer Circus Festival in Havana, Cuba; as well as the silver medal at the 13th Latina Circus Festival in Italy and the New Creation title by the world's leading circus groups Monte Carlo Circus and Cirque du Soleil.
The brothers become internationally known when they broke the world record for "most consecutive stairs climbed while balancing a person on the head" in Girona, Spain, in 2016, and then for their performance in Britain's Got Talent 2018, held earlier this month. 
Alongside Co and Nghiep many other talented Vietnamese circus artists have won awards at international festivals, but are not as popular in Vietnam or abroad.  
Thanh Xuan interviews People's Artist Nguyen Thi Tam Chinh, head of the Viet Nam Circus Association about how Vietnamese circus performers take opportunities to promote their names and Vietnamese circus around the world.
What were your thoughts after seeing the head-balancing act by Quoc Co and Quoc Nghiep?
I'm very proud of Vietnamese acrobats Quoc Co and Quoc Nghiep. Vietnamese circus will become more popular in the world thanks to their performance at Britain's Got Talent. I can say that when foreigners talk about Vietnamese circus they will talk about Quoc Co and Quoc Nghiep.
Their head-balancing act is developed from their performance Suc Manh Doi Tay which they have performed for many years now and has won them several top prizes at international festivals.
Vietnamese circus used to rely on an acrobat couple to perform this act, the performance was more difficult and require more strength. The female artist would support the male artist on her hands. After getting married the female artist switches to animal circus.
Co and Nghiep are lucky to be popular with this performance.
Why has this performance made Co and Nghiep popular?
They are masters of performance. Their performance art is much better than others. This is the point in circus art. With the same performance, some artists perform very well and charm the audience, but other artists cannot.
I agree with the comment saying that Co and Nghiep are much more skillful with the head balancing act. Their movements are flexible and graceful. Plus, in their performance at the Britain's Got Talent final show they use other elements, such as the soldier's uniform and the ao dai which are very typical Vietnamese characteristics to foreigners. 
Whenever the acrobats perform in other countries they know how to combine their movement to suit the producers' intention. In addition, Co and Nghiep have other advantages such as their beautiful bodies; attractive performance style and good manners. All these things make them outstanding.
What is the average career length of a circus performer?
It depends on the kind of circus performance. Generally, circus artists cannot sustain a long career with one act. If Co and Nghiep practise everyday and keep their strict menu then they will be able to perform head-balancing by the age of 40 or even 50. But the most important thing is that their passion and their enthusiasm, which will help them to keep their muscles.
What should Vietnamese acrobats do to gain success like Co and Nghiep?
I think that circus artists should follow the brothers' performance style and how they promote their image at international shows. Circus doesn't only require skills and training, it also requires art. We need to question why Co and Nghiep can do it; and how they made it. 
Vietnamese circus performers have won many top prizes at international festivals, but they sink into oblivion. Many people think that Vietnamese circus has come to a standstill. In fact, it has not. We have talented performers winning international awards. Last year, Ngoc Anh and Thu Thuy from the Viet Nam Circus and Variety School won the top prize at the International Circus Festival Circuba in Cuba and Van Thai and Thu Huong from the Viet Nam Circus Federation just won the silver medal at the 33rd Goldern Circus Festival in Italy. 
Source: VNS