VietNamNet Bridge – Staff and customers at the restaurant made famous the world over thanks to Anthony Bourdain have paid tribute to the celebrity chef who tragically took his own life on Friday.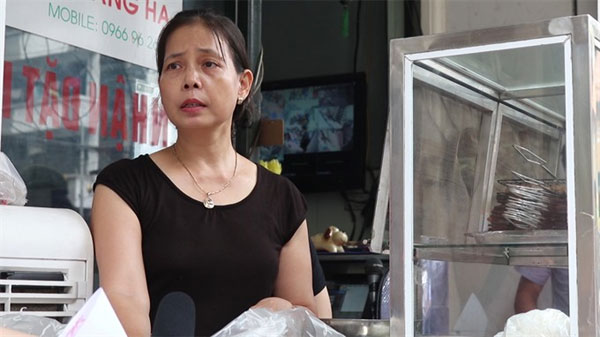 Nguyen Hang Nga, owner of Huong Lien Restaurant on Le Van Huu Street. VNS photo
Bourdain filmed many scenes for his television show, Anthony Bourdain: Parts Unknown, in Vietnam and even dined with former president Barack Obama in Hanoi.
The two men ate at Huong Lien on Le Van Huu Street in 2016 and since then many visitors have flocked to the restaurant.
One of the owners, Nguyen Hang Nga, said she was broken-hearted when she heard the news. The chef had died.
Nga said: "When I heard the news, I was very devastated and heartbroken. He was a talented man. His death is a big loss for the culinary world.
"He was very friendly when he came here. My family really appreciated what he did in introducing Vietnamese cuisine and our restaurant to the world.
"We will always remember him."
Customer Marc Arasim was dining at the venue on Saturday, less than 24 hours after the chef was found dead in a Paris hotel.
Marc said he had eaten at many of the restaurants featured in the CNN show, on the recommendation of Bourdain.
"I know he was in love with Vietnam and the dishes here. He always points the map. He always comes to where the street food is to eat. I visited many places in Hoi An, in search of the excellent food that he's eaten."
After his death on Friday, Obama tweeted a photograph of the two men sat eating and drinking Hanoi beer at the restaurant.
The former US President wrote: "This is how I'll remember Tony. He taught us about food - but more importantly, about its ability to bring us together. To make us a little less afraid of the unknown. We'll miss him."
Bourdain quotes about Vietnam from the show Anthony Bourdain: Parts Unknown:
 "All of the things I need for happiness: Low plastic stool, check. Tiny little plastic table, check. Something delicious in a bowl, check."
"This is the way so many great meals in my life have been enjoyed: sitting in the street, eating something out of a bowl that I'm not exactly sure what it is, scooters going by. It's so delicious, I feel like an animal."
On eating bun bo Hue at the city's Dong Ba Market: "People are put on earth for various purposes; I was put on earth to do this. Eat noodles right here."
 "I would definitely bring a date for [bun bo Hue]. Because if she doesn't like this, there's no hope of a relationship."
By Paul Kennedy
Source: VNS