A talk on a new collection of poetry by writer Mai Văn Phấn will be organised in downtown Hanoi tomorrow.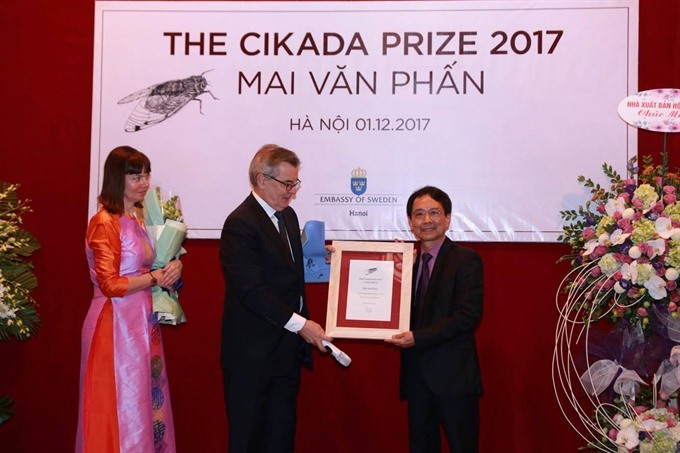 Mai Van Phan (right) receives the Cikada Prize from Dr Lars Vargö, chairman of the Cikada Prize's jury, at Hanoi's Temple of Literature on December 1, 2017. 
The talk will focus on Phan's new collection of poems, Lặng Yên Cho Nước Chảy (Be Quiet for the Water Flowing) and will be hosted by Phanand editor Nguyen Hoang Dieu. The book has been published by Nha Nam Culture & Communications JSC.
The talk will be delivered at the French cultural centre L'Espace, 24, Trang Tien Street, Hoan Kiem District, Hanoi, and is scheduled to begin at 6pm.
The poems in the new collection have been written in a simple style for young poetry lovers. The collection is divided into five parts: Sương Sớm (Early Morning Fog), Thay Mùa (Changing Seasons), Đất Mở (Opening Soil), Cái Miệng Bất Tử (The Formidable Mouth) and Buông Tay Cho Trời Rạng (Release Your Grasp for It to Dawn).
The first part includes short poems of two to three sentences; the second part contains poems written in the traditional style; the third part has freestyle poems on land and crops; the fourth part includes modern-style poems and the fifth part contains prose-style poems and poetic epics.
Phan was born in 1955 in Kim Son District in the northern province of Ninh Binh and now resides in the port city of Hai Phong. He has won a few domestic and international awards, including the Vietnamese Writers' Association Prize in 2010 and the Swiss Cikada Literature Prize 2017.
He has published 14 collections of poems, a collection of critiques and an essay in Viet Nam. His poetry collection has been published overseas and is available on Amazon.
His works have been translated into 24 languages, including Arab, Albanian, Macedonian, and Nepali.
According to literature experts, Phan's poetry has strong imagery, especially natural factors. His work is often inspired by nature, and he prefers silence to introspect and contemplate. — VNS