VietNamNet Bridge – Author-journalist Nguyen Dinh's Chuyen Nho O Cho Lon (Stories of Big Market), a book on the Old Quarter, known as Cho Lon (Big Market) in HCM City, was released last weekend.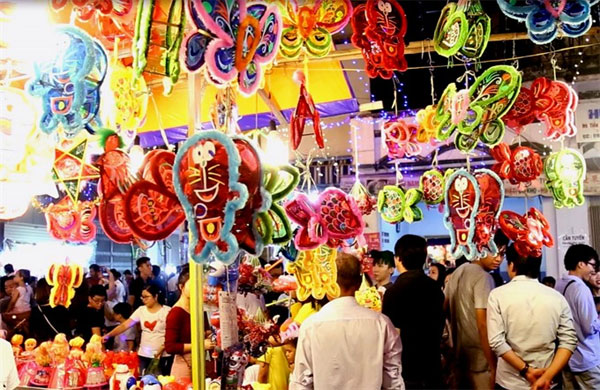 Lifestyle of Hoa living in Cho Lon ( Big Market) in HCM City (Photo by Ngoc Diep)
The 309-page book features the 200-year old history, culture and lifestyle of Cho Lon, which lies on the west bank of the Sai Gon River. It includes the western half of District 5 (former Chinatown) and several adjoining neighborhoods in District 6.
The book focuses on traditional festivals, calligraphy, dragon dance, architecture and lifestyle of the ethnic Hoa people (Vietnamese of Chinese origin). Around 440,000 Hoa account for 4 per cent of the city's population.
Chinese architecture and old buildings, including Binh Tay Market, are also highlighted.
Binh Tay Market, one of the city's favourite tourist destinations, was built in 1928 by a Chinese businessman named Guoyan (also known as Quach Dam), who hired a French architect to design the building.
It is one of the biggest wholesale markets in HCM City, offering a wide range of goods. It was renovated in 1991 and 2006.
The book also has photos and other images.
Writer Dinh has spent more than 20 years researching, collecting and capturing information and images of daily life of the Hoa people in Cho Lon.  
The book Chuyen Nho O Cho Lon is published by the The Gioi Publishing House and Phuong Nam.
Source: VNS