VietNamNet Bridge – Lon Xon band was declared winner of the second season of Sing My Song contest 2018 for its hip-hop and rap song, Hmmm.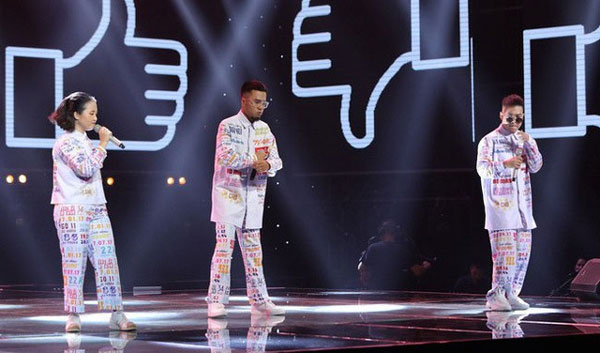 Lon Xon band won the Sing My Song contest for the song Hmmm. — Photo dantri.com.vn
Held in HCM City last night, the finale of the contest was held among 10 contenders - Andiez Nam Truong, Tuan Anh and Gin Tuan Kiet (team of songwriter Ho Hoai Anh), Dinh Khuong and Hakoota Dung Ha (team of songwriter Duc Tri), Lon Xon band and Khanh Ly (team of songwriter Le Minh Son) and Sa Huynh, duo Juun Dang Dung-R.Tee and Tuong Vy (team of songwriter Giang Son).
In the finale, the contestants competed in two rounds for the two best performances. Truong and Lon Xon won the round. While Truong showcased his strength in the ballad genre with the song Bai Hat Cua Nhung Uoc Mo (The Song of Dreams), Lon Xon performed Hmmm.
The two qualified for the direct elimination round to compete for the award. With 11 votes from the judges, Lon Xon won the contest, receiving a cash prize of VND150 million (US$6,500). Truong was the runner-up with 10 votes.
Lon Xon was established in September 2016 and consists of three members - Tran Quynh, Nguyen Viet Hung and Phan Thanh Nhan. Their songs are inspired by life and social issues such as traffic congestion. After two years of effort, the Vietnamese underground band has consolidated its position in Vietnam's music. In 2017, the band organised a musical night, titled Tu Dung (Sudden), to celebrate their first anniversary. The event attracted many youths.
Sing My Song is a reality TV programme looking for versatile artistes who are capable of both composing and singing. The contestants who enter the filming round will be supported by the organisation board in training, releasing products and building the brand. The programme is aired in over 30 countries globally. Vietnam purchased the copyright of Sing My Song from China, and the first season was aired in 2016.
Source: VNS