VietNamNet Bridge – The house in which President Ho Chi Minh spent the last moments of his simple life is spotlighted at an exhibition that opened last Friday in Hanoi.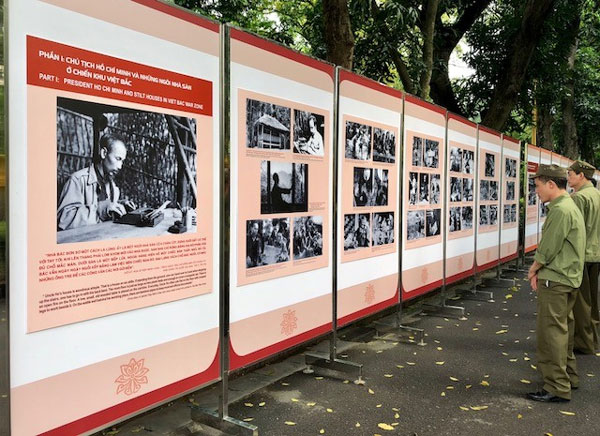 Informative: The exhibition helps visitors, especially young people and soldiers, understand more about the life and career of President Ho. 
The exhibition tells the story of the house on stilts built 60 years ago on the grounds of the Presidential Palace. The construction reflects the morality of President Ho and his love for the nation and people.
When Hanoi was liberated in 1954, President Ho lived and worked in this area but he refused to live in the Presidential Palace, a large villa built by French colonialists in the early 20th century.
Because of his love for nature and habits of living a simple life, he used the Presidential Palace for diplomatic activities only and lived in a small house where electricians had resided.
Four years later, the Politburo built the house on stilts with design based on the houses of the people living in the northern mountainous region, where President Ho lived together with the local people to prepare for the resistance. The house was presented to Uncle Ho as a gift for his birthday (May 19). He moved to the house on May 17, 1958.
The ground floor is where President Ho used to hold meetings with the Politburo. The second floor has two small rooms where he worked, and his bedroom with simple home appliances. In the front of the house, there is a fish pond that he fed with great care. On the banks of a pond, a variety of orchids bloom year around.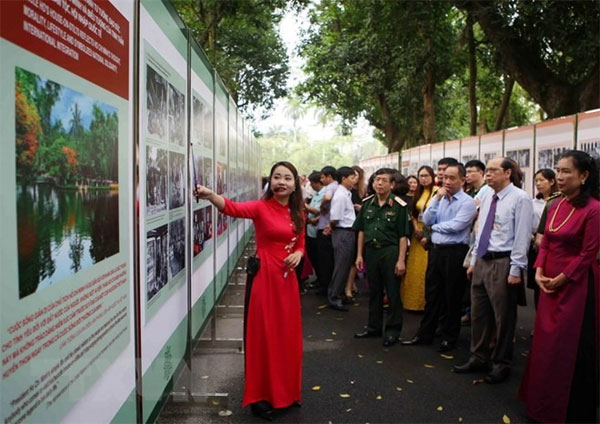 Simple but great: The exhibition tells visitors the story of the house on stilts, built 60 years ago in the Presidential Palace relics. — VNA/VNS Photos Thanh Tung
The 200m-long Mango Road, lined with mango trees, leads to the house. 
The house on stilts has become a popular attraction with tourists who come to visit the Presidential Palace relics.
The exhibition also displays documents and photos with the hand-writing of President Ho including postcards that he sent to the public for Tet.
To celebrate President Ho Chi Minh's birthday, the Military Library also organised an exhibition portraying his career, morality and philosophy.
The exhibition displayed 1,000 publications divided into categories reflecting different periods in his life, from childhood to the resistance war.
It helps visitors, especially young people and soldiers, understand more about the life and career of President Ho, reaffirming his great role in the national liberation and development.
Mac Thuy Duong, vice director of the Military Library, said documents and objects displayed at the exhibition have been preserved at the library over 60 years. She expected that the exhibition will help raise people's awareness and responsibility for protecting and building the country.
The exhibition will run until June 15 at the Military Library, 83 Ly Nam De Street, Hanoi.
Source: VNS