Famous overseas Vietnamese singer Huong Lan will stage a special show at Hoa Binh Theater in Ho Chi Minh City on June 2.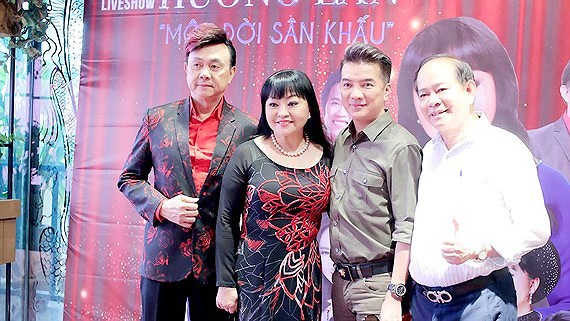 Singer Huong Lan (C), comedian Chi Tai (L) and singer dam Vinh Hung (2nd, R) at the press conference of the concert 
Her concert will include two parts of co nhac (cai luong-southern folk music) and pop music with the participation of People's Artist Ngoc Giau, Meritorious artists Hoai Linh, Trong Phuc, comedian Chi Tai, singers Y Lan, Dam Vinh Hung, Quang Le, Quang Linh, Duc Tuan, Huong Thanh and others.
The performance aims to mark her singing career that has spanned over 50 years.
Huong Lan is a renowned singer of romantic folk music and cai luong actress. She possess a "timeless singing voice".
The singer was born in 1956 in Saigon (Ho Chi Minh City at present). She was early introduced to music at the age of 5. In 1978, she went to France and often appeared in Paris By Night program.
Huong Lan is well-known for country music ballads, like Con Thuong Rau Dang Moc Sau He (Still Loving Bitter Vegetables Behind the House), Em Di Tren Co Non (You Walk on Young Grass) and Sa Mua Giong (Stormy Rain Falling). Currently, she performed abroad and domestic.
SGGP