IDECAF Stage, one of HCM City's leading private drama troupes, is preparing to stage a new play aimed at young audiences this summer.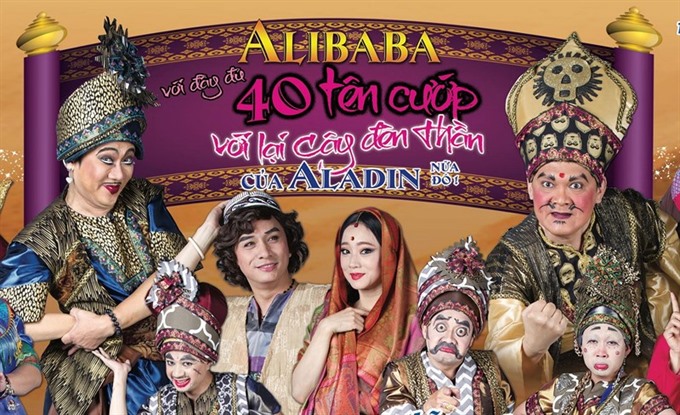 Artists perform in Alibaba và 40 Tên Cướp (Ali Baba and the Forty Thieves), a new play based on the story from One Thousand and One Nights, which will be staged at the IDECAF theatre this summer in HCM City. — Photo courtesy of the producer
The play, Alibaba và 40 Tên Cướp (Ali Baba and the Forty Thieves), features Alibaba, a poor woodcutter, who says "open sesame" to open a cave of treasure owned by 40 thieves.
The thieves discover the truth and try to kill Alibaba, but Alibaba uses his intelligence to kill the thieves.
The play is based on Ali Baba and the Forty Thieves from the popular 18th century collection of tales One Thousand and One Nights.
The Vietnamese version highlights bravery, self-respect, honesty and friendship, as well as an encouraging message for children to oppose evil forces.    
IDECAF spent several hundred million đồng on the production.
"Our actors will show off their talent in music, dance, pantomime and circus tricks," said Vũ Minh, the play's director, a young talent in theatre.
Minh has worked with costume designers and theatre specialists to add a realistic element through beautiful clothes, accessories and interior design suited to the play's theme.
He also invited young composers to write new songs in electronic and dance.    
"I want my stage to dazzle young audiences," said Minh. 
Forty actors, including veteran comedians Thành Lộc and Hữu Châu, will play the role of the thieves.
"We have worked hard on our characters  We love watching our fans discover themselves through our art," said Meritorious Artist Lộc, who has nearly 40 years in the industry.    
Alibaba và 40 Tên Cướp is part of Ngày Xửa Ngày Xưa (Once Upon A Time), a theatre programme for children launched by IDECAF in 2000. 
The programme has offered more than 30 plays for several thousand children and teenagers, including disadvantaged kids from open houses and shelters in the city and neighbouring provinces, who receive free tickets.  
"We provide young audiences with new concepts and techniques in drama. We hope our plays can enhance young people's love for the theatre," said Lộc, one of the programme's founders.
Lộc has performed leading roles in dozens of plays and shows for children staged by IDECAF.
Alibaba và 40 Tên Cướp will be held in 27 shows at IDECAF's theatre on 28 Lê Thánh Tôn Street in District 1 at 8pm every weekend from May 26 to July 1.  
Tickets are available at the theatre's box office. — VNS