A documentary about the ceramic art of Nguyen Thu Thuy won two prizes at the Top Shorts online film festival, the organiser announced recently on its website.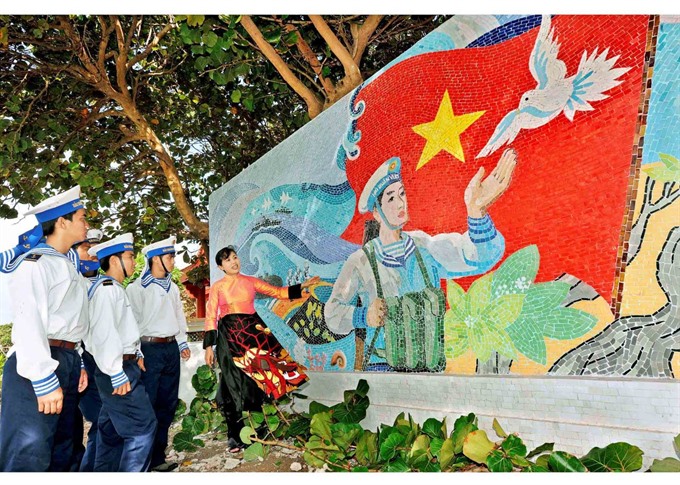 Painter Nguyen Thu Thuy presents her mural to soldiers, a scene in the film directed by Nguyen Nghiem Nhan. — Photo courtesy of the artist
The film Thu Thuy - A Dream of Ceramics was directed by Nguyen Nghiem Nhan from Viet Nam Television during 2006-17.
It tracks the career of painter Thuy, who has created various notable artworks, such as the Ceramic Road along Red River (Guinness World Record for being the largest ceramic mosaic in the world), Mirror House in downtown Hanoi (silver trophy at the International A' Design Awards 2018) and a mural of Vietnamese trees and flowers at Da Nang International Airport (a bronze at the 10th International Design Awards in Los Angeles, US).
Thuy also won in the category of Inspiring Woman in Films.
The official website of the film festival called the documentary "wonderful and excellent work".
It is narrated by cultural activists Scott Matt and Mary Jane Elliott. Elliott said the film praised the power of community art and had many beautiful scenes with Thuy and her artwork.
"Thuy is active and positive in creating art, bringing it closer to the community and making it useful for community life," Elliot said.
The jury included renowned filmmakers, such as six-time Emmy-nominated director Jeff Melman, director and founder of Top Shorts and Festigious International Film Festival Roy Zafrani, multiple Emmy-winning film and sound editor Dave Eichhorn, French actor Jean Vincentelli and award-winning actor Jon Campling.
Top Shorts is the world's leading online film festival for films under the 40-minute duration. It is divided into two parts: Monthly Competition and Annual Film Festival. Every month, the jury selects the winners through private screenings in Los Angeles.
Nhan's documentary will compete at the fifth Annual Top Shorts 2019. —
VNS