VietNamNet Bridge – A collection of 83 paintings and sketches by soldier, journalist and painter Colonel Pham Thanh Tam is on display at the HCM City Fine Arts Museum.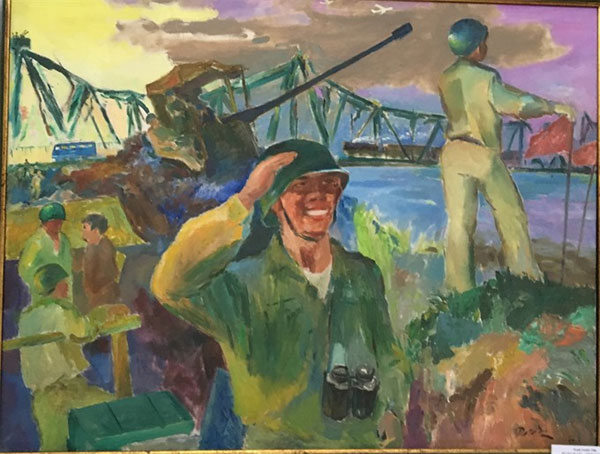 An oil on canvas painting May Bay Dich Da Xa (Ememy's Aircraft Flew Away) by soldier, journalist and painter Colonel Pham Thanh Tam. VNS Photos by Phuong Mai
The "Khang Chien va Hoi Hoa" (Resistance and Painting) exhibition is part of the city's activities to celebrate the Reunification Day, April 30.
There are 15 paintings with various mediums and materials such as oil on canvas, water colour on silk, and gouache, which Tam made when he joined the military in 1950.
Thy feature the life of civilians and soldiers during the war, and occasionally landscapes such as Rung Trang Hoa Ban (Orchid Tree Forest), Co Gai Thai Dien Bien (Thai Lady in Dien Bien), and May Bay Dich Da Xa (Enemy's Aircraft Flew Away).
There are also 68 pen and pencil sketches of actual happenings on battlefields.
Those like Xuan trong ham phao Dien Bien (Spring at Gun Bunker in Dien Bien) and Ky Uc Dinh Doc Lap (Memories of Independence Palace) have become invaluable.
"I have received many compliments for my sketches," Tam, 85, said.
"The sketches have become valuable documents because they brought to people news about battles."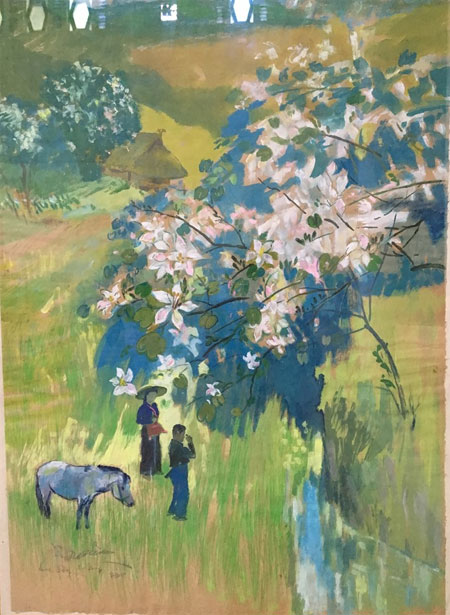 Rung Trang Hoa Ban (Orchid Tree Forest), a gouache painting by Colonel, journalist and painter Pham Thanh Tam. 
Born into a revolutionary family in Hai Phong City, Tam joined the military and became an artist to paint propaganda posters.
In 1957 he and artists Phan Ke An, Mai Van Hien and Huynh Van Thuan founded the Viet Nam Fine Arts Association.
In 1964 he entered the Ha Noi Fine Arts College (current Viet Nam Fine Arts University), but returned to the battlefield after graduating in 1968.
He worked as a soldier, journalist and painter, drawing sketches on many battlefields like Dien Bien, Khe Sanh and Quang Tri, which were published in many newspapers.
In 1978 he became director of the Military's Fine Arts Studio in Hanoi. He retired in 1989 and moved to HCM City with his family.
Tam was awarded the Glorious Fighter Medal, Medal for Vietnamese Fine Arts Career, and Medal for Vietnamese Literature and Art Career for his contribution to the arts.
The museum is at 97A Pho Duc Chinh Street, District 1. The exhibition goes on until June 30.
Source: VNS