French photographer Réhahn has added a bunch of brocade products made by H'Mong and Dao Do ethnic minority people living in the mountainous northwestern region to his Precious Heritage Museum in the ancient town of Hoi An.
Tourists in Hoi An will be able to experience brocade, the traditional highly decorative fabrics of the northwestern ethnic minorities, and feel the breath of nature inside handmade brocade products.
In early April, the Precious Heritage Museum was more exciting than ever with the presence of 10 H'Mong and Dao Do brocade craftswomen from the far-away mountainous town of Sapa. They came to Hoi An at the invitation of Réhahn to introduce the beauty of the mountainous northwestern region, and the culture and the craft of brocade weaving of ethnic minority people. They also instructed the visitors how to weave brocade in different techniques and with various patterns.
Réhahn said his love for Vietnam, especially its ethnic heritage, has guided him to travel across the country to take photos of colorfully diverse ethnic groups.
The passion for photography has taken him to more than 35 countries but he decided to settle in Hoi An and opened the Precious Heritage Museum, which now displays 35 Vietnamese traditional costumes, 200 photos capturing the natural beauty and people's daily life, and stories and information about 54 ethnic groups in Vietnam available in Vietnamese, English and French.
The museum is nowhere else but his home at 26 Phan Boi Chau Street, Hoi An City, Quang Nam Province.
After more than one year since the museum was opened to visitors in January 2017, the French photographer early this month added brocade products to his collection. Réhahn said the idea appeared during his trip to Sapa in July 2017. He was really impressed by brocade products made by H'Mong and Dao Do tribal groups there so he decided to bring brocade products to Hoi An and introduce the brocade weaving craft to local and international visitors.
Vo Phung, director of the Hoi An Culture and Sports Center, described Réhahn as a unique person for his contribution to preserving the Vietnamese traditional culture and promoting a multicultural Hoi An.
Réhahn was born in Normandy, France. He had travelled to 35 countries before settling in Hoi An in 2011. The French photographer is particularly renowned for his portraits of people in Vietnam, Cuba and India.
In January 2014, Réhahn released a photo book named Mosaic of Contrasts, whose copies have been sold in 29 countries around the world. The book is a compilation of 150 photos taken by Réhahn in the first three years he lived in Vietnam, capturing the exquisite landscape and the diversity of cultures in the country. With very few words written in English or French, Réhahn lets the photos tell the stories, leaving the viewers eager to turn the page. 
Réhahn also usually posts his artworks on his Facebook page, which has more than 410,000 followers.
In a trip to France in late March as part of celebrations for the 45th anniversary of Vietnam-France diplomatic relations, Vietnamese Party General Secretary Nguyen Phu Trong chose Réhahn's "Hidden Smile" photo as a present for French President Emmanuel Macron.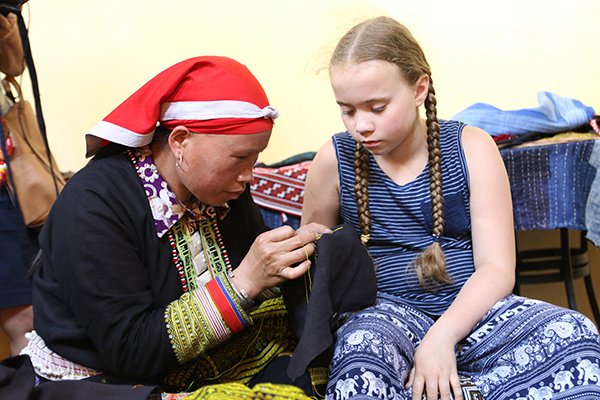 A craftswoman is instructing a visitor how to weave brocade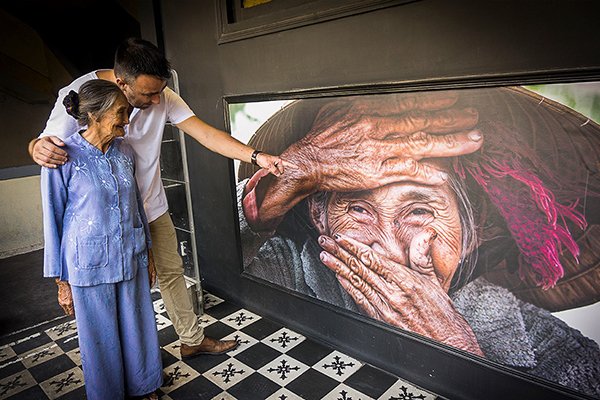 Réhahn and the old woman in his photo "Hidden Smile" which was given to French President Emmanuel Macron by Vietnamese Party General Secretary Nguyen Phu Trong last month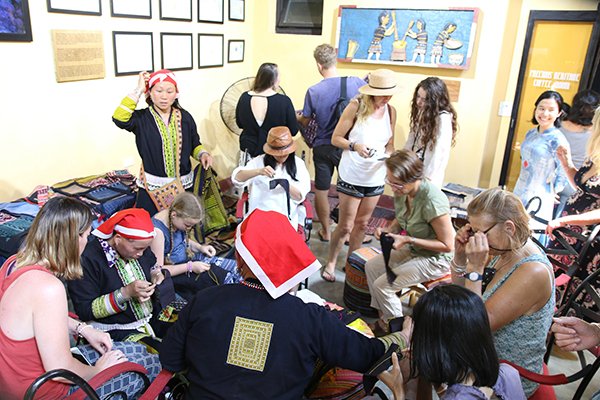 Many local and foreign tourists visit Réhahn's Precious Heritage Museum to learn about brocade and brocade weaving
SGT