Nguyen Bao Trung is the first Vietnamese to win the World Beatbox Camp in 2017. From a novice beatboxer who learned about the art himself, Trung now develops sounds and has participated in a number of international beatbox competitions. He is currently studying Graphic Design in the United States.
Trung talks with Hong Van about his passion for beatbox.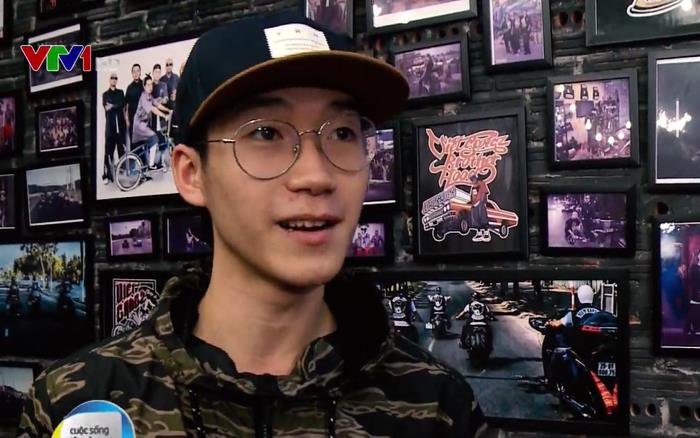 Nguyen Bao Trung won the World Beatbox Camp 2017 in Poland. 
You won the World Beatbox Camp 2017 in Poland, one of the most educational beatbox camps in the world. What helped you win the competition? Did you expect much when signing up?

To me, the most important factor that brought me the title was confidence, and I achieved that through preparation. Other than that, my unique style helped me stand out from other participants. I joined the competition with an intention to win and I believed in my ability, so when I won the final battle, I wasn't surprised, though I was highly honoured. It's the first time myself and the Vietnamese beatbox community have claimed an international title. Other participants had some great performances as well. It's a good feeling to join a competition that is very fresh and diverse in styles and techniques.
What has the award brought to you? What were the most rewarding things in the competition?
Everyone definitely perceives me differently than before, since this is the first international title in my career. Through the title, I got a chance to connect with a lot of artists and musicians in Viet Nam and around the world, the last few months have been a total eye-opening experience.
When did you learn about beatbox? Given that there is no professional beatbox school or course available in Việt Nam, how did you practise beatboxing?  
I was introduced to beatbox by my older brother, around seven years ago. He showed me a video of the beatbox legend Rahzel. I still remember how my jaw was dropping so hard watching the video, and at that moment, it was the best thing I had ever heard. I knew instantly this was for me. Then I spent an entire month non-stop watching beatbox videos on YouTube. And of course, I didn't sound very good for that first month. Despite all the weird looks everybody gave me, I kept on practising.
 What is the most difficult sound for you?
The most difficult sound that I have learned is the inward lip rolls. It took me four years to master this technique. The sound has many variations, and it's very standard for creating heavy bass in a music composition.
 What is your favourite beatbox performance?
The Reeps One Showcase at the American Beatbox Championships 2014.
You performed Bass Cannon (your own work) in the solo battle in the finale of World Beatbox Camp. Could you tell us more about Bass Cannon? Why did you choose it?
Bass Cannon is my special sound that I have been developing since 2014. This sound is an example of utilising all parts that can create sound (vibrations) inside a human mouth (tongue, lips, cheeks, vocals) and combining them in harmony to create one strong bass sound. It's the technique I'm most proud of, and it's my signature sound in the beatbox community. The bass cannon has always helped me stand out from other beatboxers.
Beatbox is closely connected with hip hop, do you also have a special interest in hip hop?
I have been listening to hip hop music for my whole life, and I have been following the music scene for the same amount of time. I'm always fascinated by the evolution of music. Nowadays, with the increasing amount of sounds, techniques, beatboxers are able to create any type of music that they like. Beatbox isn't exclusively connected to hip hop in terms of music style anymore, but it's rather connected with the soul of hip hop - experimentation and self expression.
You and artist Ngô Hồng Quang put on an impressive performance in January with a combination of folk music and beatbox. Could you tell us more? Did you find it difficult to beatbox on top of folk music?
We did this performance on Nguyễn Huệ walking street in downtown Ho Chi Minh City in front of 50,000 people. It was definitely one of the craziest performances I have ever done. The sound system and the production team really helped giving weight to my performance.
I've known Quang for about six months now, and we became very good friends quickly. Therefore the process of creating this piece wasn't hard at all. Both Quang and I realised the folk song has some elements of modern music in terms of rhythm and sound. The practice sessions were always fun and energetic, and we had a great experience performing the piece together.
Besides beatbox, what else are you passionate about?
Besides being a beatboxer, I'm also a visual artist/graphic designer. The two passions have a close connection with each other in my life. The mindsets and workflows to create music compositions, or a still image or a time-based visual composition such as animation are similar. The harmony between the elements within a composition, the way the creator leads the audiences through that composition either with sound or visuals through principles such as contrast, rhythms, patterns, textures, are to be considered similar in both beatbox/music and graphic design. Especially the usage of negative space (in visuals) and silence (in music) is key. Plus, the creative lifestyle and the process of problem solving are the same as well. Visual art and beatbox have been complementing each other in my life harmonically. It's a cycle that keeps my mind fresh all the time. When I take breaks in one, I can go do the other, therefore I never feel stuck creatively.
What is your plan for this year and the future?
In March, I'm heading to Switzerland to participate in the Grand Beatbox Battle 2018. In October, I will be performing in Lyon, France, with guitarist Nguyen Le, Ngo Hong Quang and other musicians and performance artists in a show called "Oversea".
In the next few years, I want to work on a music video project that combines beatbox and visual art, and I will handle everything from A to Z. I want to release my first beatbox album. And I also want to bring more Vietnamese beatboxers to the international stage.
VNS