Trial cameras will be installed during the Tran Temple festival this year to track violations, said Pham Thi Oanh, deputy chairwoman of People's Committee of Nam Dinh City.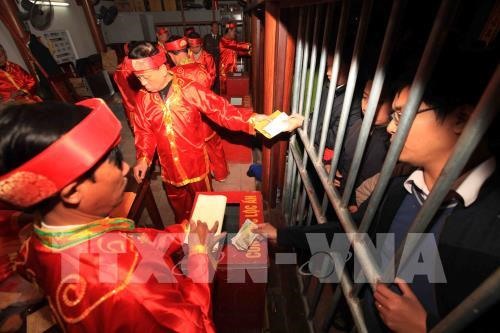 The symbolic royal seal distribution at Tran Temple festival last year.
The cameras will help identify service fee hike and violations, such as people throwing small banknotes to palanquins that distribute symbolic royal seals.
The organising committee of the festival will step up supervision on parking fee and xe ôm (motorbike taxi) price and will work with bank inspectors to identify and fine those who stalk visitors for small banknote exchange.
Oanh said an inter-sector inspection team led by the head of the market surveillance team at the local Department of Industry and Trade will supervise the monitoring.
The organising committee has prepared for the seal distribution ceremony to meet visitors' demand.
After the ceremony, offerings on altars will be cleaned up to avoid fighting over the offerings.
Distributing symbolic royal seals is an indispensable part of the Tran Temple festival. The seals, distributed among locals and tourists, are considered lucky cards for the new year.
The festival will kick off on the 11th day of the first month of the lunar calendar (February 26) and will conclude on the 16th day (March 3). The royal seals will be distributed from 5am on the 15th day of the first lunar month (March 2).
The Tran Temple Festival in Nam Dinh was recognised as national intangible heritage in 2014. Visitors attend the water procession and fish worshipping ceremonies at Tran Temple Complex in Loc Vuong Ward, Nam Dinh City in the northern province of Nam Dinh to honour the ancestors of the Tran dynasty (1226-1400), who earned their living from fishing. — VNS