At the beginning of the year, various Spring festivals are held in different localities to thank gods and pray for a year of favourable weather and bumper crops. Xen Muong festival in Mai Chau district, the northern province of Hoa Binh, is one such event organised by Thai people, praying for good crops and happiness.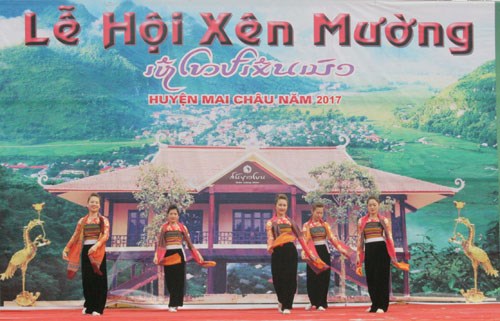 A photo of last year's Xen Muong festival held in Hoa Binh province (Source:www.baohoabinh.com.vn)
Xen Muong festival has become a shared event of many ethnic minority groups in the province and neighbouring localities as well as tourists who come to enjoy the traditional culture, art and foods of Thai people.
The festival features various art performances, such as "keng long" dance (traditional dance of Thai people), drum and gong playing by local artists.
Many cultural activities and games are also held, including a tug of war, volleyball, crossbow shooting, and a food exhibition.
Within the framework of the festival, villages across the commune introduce local dishes, including steamed violet glutinous rice mixed with cassava, forest vegetables, and young bamboo cooked with chicken. Locals also sell brocade, purple garlic and forest vegetables.
Ha Trong Luu, Chairman of Chieng Chau People's Committee said that Xen Muong festival of the Thai ethnic minority group has been held for generations. The event was suspended for a long period, but it was restored in 2011, with many unique spiritual practices and long-lasting traditions preserved.
Chieng Chau is the homeland of Thai people who migrated from Bac Ha in Lao Cai in the 8th century. Throughout history, generations of Thai people, together with other groups in the locality, have made significant contributions to turning the land into a prosperous area.-VNA