VietNamNet Bridge – Artist Bui Hoang Duong, 37, from an ethnic Muong group in the central province of Thanh Hoa, has a special affection for dogs, particularly those he had raised and lived with. And his love for man's best friend is evident in his paintings.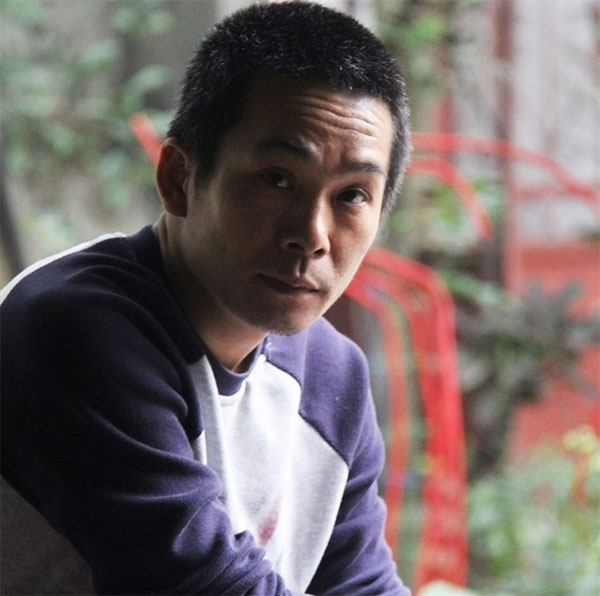 Dog lover: Artist Bui Hoang Duong. — Photos courtesy of Bui Hoang Duong
Duong has travelled extensively throughout the country and abroad since 2000. Up until now, he has created more than 300 paintings and, not surprisingly, most of his artworks are portraits of dogs, showing the interaction between the canine animal and human.  
He paints dogs in different moods and in doing so, he conveys his own emotions. The artist was willing to travel far from home to look for the beauty in nature and to capture dogs in their most natural and impressive actions.
As Tet (Vietnamese Lunar New Year) festival and the Year of the Dog approach the artist told Viet Nam News he wanted to highlight the figure of dogs in nature and human life as a way to honour the friendship and faithfulness of dogs with humans. 
Kiki and Koko
Dương got emotional while recalling the memory of his beloved dogs, Kiki and Koko, which have been with him since he was studying abroad in the early 2000s.
Duong said before discovering his love for painting dogs, he studied calligraphy in China, then moved to Australia to increase his knowledge on the subject.
But he could not make it his forte and started doing business.
He invested all his savings in opening a liquor factory but lost all the money and soon became bankrupt. He also divorced his wife around the same time.
As his personal and professional life collapsed, he lost the inspiration to move on in life. Until one day, he decided to make a sketch of Kiki and Koko, his pet dogs who were with him since he went to China.
He initially used lacquer but later changed to other mediums, including oil on canvas and acrylic.
Duong said he could paint all breeds of dogs, but "50 per cent of my paintings are inspired by Kiki and Koko"- the two dogs that he and his ex-wife regarded as their children.
"My inspiration is always aroused after I watch films about dogs such as Hachiko and Bim tai den long trang over and over again and am always touched with the characters of the dogs," the artist said.
At home, Duong used to raise 11 dogs, many of whom made up the subjects in his paintings.
Duong has wandered across the country to paint dogs since 2015, refusing to draw sceneries or portraits for money. He told Viet Nam News that all his works on dogs were an invaluable asset and he never painted for financial purposes.
Wild dreams, happy heart
The paintings of dogs by Duong are strange and unique as they reflect the wild nature of the animal, and are sometimes mixed with a bit of a pop-art aesthetic. 
According to Duong, he could finish dozens of paintings in a month if he got the inspiration, while at times he just could not. Some viewers said many of his works are not realistic but somewhat impressionistic.
His affection for dogs reached its peak when he decided to hold a contemporary performance near Hoan Kiem Lake in central Hanoi.
Duong said he would act like a dog with a chain around his neck, walking around the lake for two hours.
"Passersby can treat me the way they like; they can tease, rub my head and call me by any dog name. I will then react the way a dog would," said Duong.
He revealed the paintings attracted foreigners through his personal page on Facebook, and he had received many messages of praise and encouragement.
But his love for dogs has also drawn rebuke and criticism from his relatives, who consider him "mad and useless". Duong, however, said he would continue to paint dogs until he loses the inspiration.
"They may think I am a failure, but by painting dogs and doing what I want, I am happier than many rich people who are never happy or satisfied in life," Duong added.
 On the occasion of Tet and the Year of the Dog, Duong's paintings are on display at an exhibition titled "Go Go 2018" by VICAS Art Studio.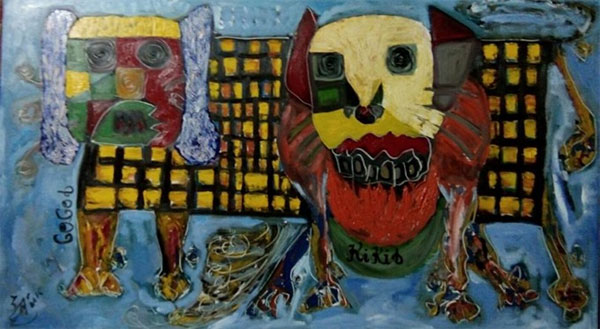 Colourful canines: Artist Bui Hoang Duong paints dogs in different moods and in doing so, he conveys his own emotions.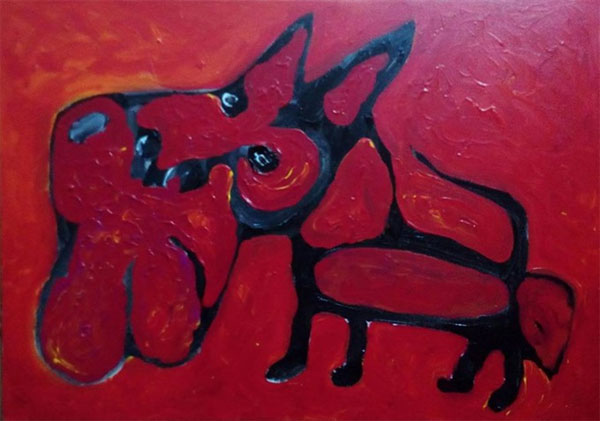 Man's best friend: A painting of a dog by Bui Hoang Duong.
Source: VNS