VietNamNet Bridge – With Tet (Lunar New Year) holiday just a few weeks away, more customers are patronising beauty salons and spas in HCM City and Hanoi, mostly for hair and skin care services.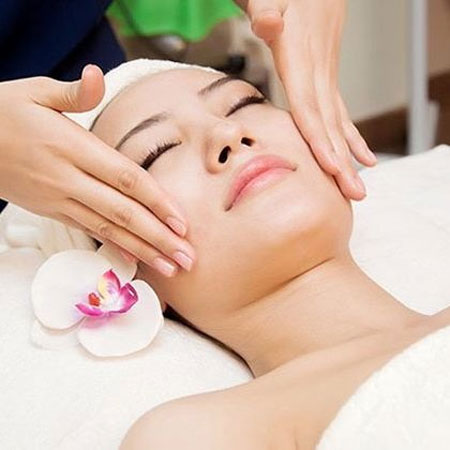 Looking fresh: Intensive skin care service at a spa. Beauty services are in high demand at most spas in HCM City as Tet holiday nears. Photo courtesy of Beyond Beauty Spa
Customers say they want to look fresh and new to celebrate the country's biggest national holiday, which falls on February 16 this year.
Among the popular services are hi-tech skin treatments and other non-surgical cosmetic treatments, according to spa experts.    
People are especially interested in skin whitening and exfoliation services, while customers with higher incomes and more free time request more intensive aesthetic treatments.
Nguyen Thi Kim Chau, director of Linh Chi Spa in HCM City, said between 100 and 200 customers were coming to the spa each day for hair and skin care services.
"Since the beginning of the new year, we've received an averaged 100 clients a day, around 200 per cent more than normal," she said.
The price for basic skin care services at mid-range spas in the city ranges from VND200,000 (US$8.8) to around VND2 million ($88). Services costing around VND500,000 ($22) suit the budget of most office workers.
For the high-end segment, intensive skin care treatments such as Ultra Vlift skin rejuvenation or skin hydration are among the favourites.
Melasma skin treatment and skin whitening services are also popular, but the cost is high and attracts mostly high-income customers.
For example, the Ultra Vlift skin rejuvenation package at a beauty salon on Nguyen Dinh Chieu Street in District 1 can cost VND52 million ($2,289) each time.
Alternatively, customers can choose a more affordable package of skin care at VND21 million for each treatment or a white-skin injection package at a cost of VND10 million each time.
"There is high demand for beauty services for Tet," said Nguyen Ngoc Hien, CEO of Evie Clinic & Spa in HCM City. "Due to the limited time, customers need fast, safe and effective beauty treatments at a reasonable price."   
She said the number of customers to her spa had increased by 30 per cent compared to normal days.
Most of the customers do not make appointments in advance and just stop by whenever they have free time, sometimes leading to an overcrowded schedule, she said.
An owner of a spa in HCM City, who declined to be named, noted that the number of customers had surged by 200 per cent at some salons.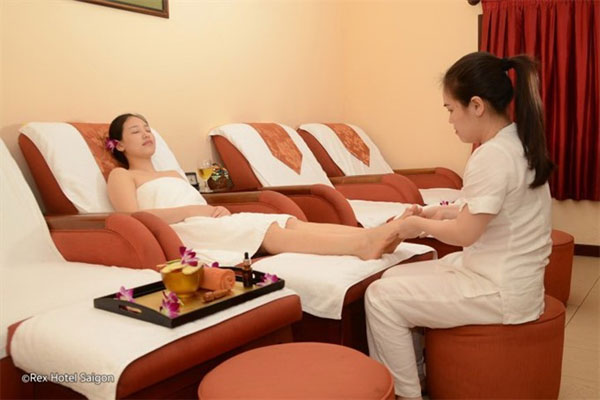 Sit back: Foot massage is offered at a spa in HCM City. Photo courtesy of Rex Hotel Saigon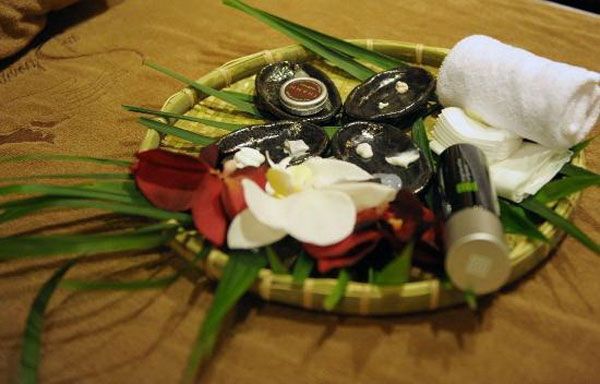 Organic: Natural materials are used for beauty services at a HCM City spa. Photo mochuongspa.com
Most customers were overseas Vietnamese who like using beauty services in Vietnam due to the affordable prices and high-quality services, she said.  
Similarly, many beauty establishments in Hanoi are operating at full capacity.
Nguyen Anh Tuyet, owner of Anh Tuyet Spa in Hanoi, said customers were making appointments around one month in advance, mostly for eyebrow tattoos and eyelid tattoo services.
With increasing demand for beauty services for both women and men, many beauty experts are concerned about the quality of less reputable establishments.
"The unsafe rate of beauty services and treatments in the market is extremely high," one spa owner said.
Customers should be aware of the reputation of beauty salons and the quality of services, and should look for reputable brands and modern machines with advanced technology, she said.
"If surgical treatment is required, it must be done by a professionally licensed doctor," she said. 
By Bo Xuan Hiep
Source: VNS