At the end of the year when rice ripens in terraced fields and the weather turn cold, people of the Pako, Ta Oi, and Co Tu ethnic groups celebrate the Aza New Year Festival, or New Rice Festival, to thank their genies for blessing them with a bumper crop.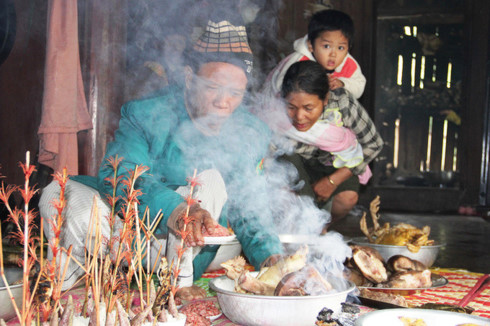 They are preparing offerings for the Aza celebration 
The Aza Festival is one of the most important events of ethnic groups in A Luoi district, Thua Thien Hue province. No matter where they are, they return home to unite with their families to welcome the festival. 
It's a get-together of relatives and villagers to talk about what they have and haven't achieved and wish each other more successes in the next year.
Nguyen Hoai Nam of A Luoi district said, "All people attend the New Rice celebration to express their gratitude to the genies of rice and plants for giving them a good crop. If they suffer losses, they pray to the genies to bless them."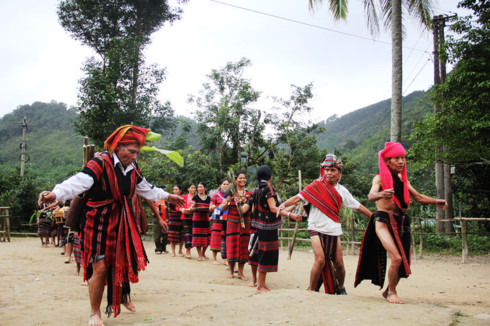 People dance while bringing their offerings to the communal stilt house to celebrate the festival with other villagers

Prior to the ritual, men prepare meat for the offerings, while women go to the forest to pick vegetables. They make traditional dishes from available materials that they believe the Jade Emperor has blessed.
A Viet Thi Nhi, a Pako woman, said, "At Aza worship, we must have glutinous rice steamed in bamboo tubes, A Quat cakes, roasted chicken, pork, and wild game meat. The ceremony takes place in several days, but we have to prepare for several weeks."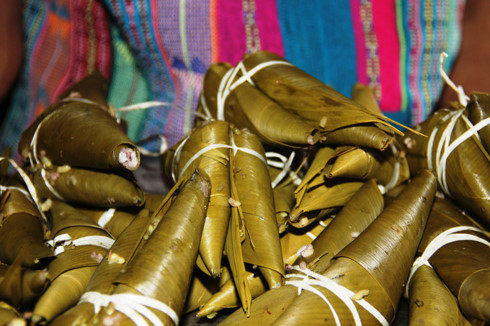 A Quat is a typical cake in the Aza festival 

The worship begins in the morning when the air is fresh. Guests from other villages bring pork, chicken, duck, and fish to contribute to the festival. 
While the patriarch performs rituals at the communal stilt house, families prepare three sets of offerings to thank the Jade Emperor and genies for health, no diseases, favorable weather, full stocks of rice, and productive animals. Families also prepare meals for their relatives and guests from other villages.
After the ritual, people in their best clothes dance and sing together to tighten their kinship and wish each other a better year.
VOV5