VietNamNet Bridge – Veteran musician and writer Vu Duc Sao Bien's latest book, Oi Cai Tuoi Trang Tron (Hello Teenage), was released in HCM City last week.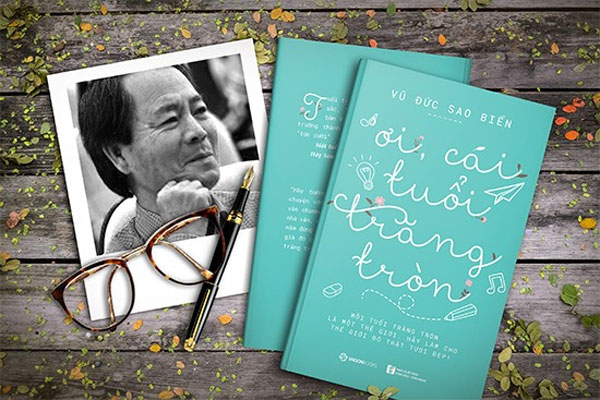 How do you do, fellow kids: Cover of Oi Cai Tuoi Trang Tron (Hello Teenage), a new book aimed at teen readers by musician and writer Vu Duc Sao Bien of HCM City. — Photo courtesy of the publisher
The 252-page book includes dozens of works by painters from the HCM City Culture and Art Publishing House. 
The book consists of stories about urban students aged 15-18 and their loves and dreams, written with the author's great imagination and flair.  
It also provides information about history, philosophy, literature, arts and medicine.
"I decided to write a book aimed at teenagers because I want to entertain them and help them learn about the world," said the 70-year-old in an interview with local media. "I used simple and lively language to write a book that would be friendly to young readers."
Ho Thi My Dung, a high school girl of the Ngo Si Lien School in Tan Binh District, said: "I'm a fan of Bien's music. I think his book will be popular with teenagers because the writer knows what young people think and want."   
"His book is full of useful information and realistic features," she added.
Bien has worked as a teacher and reporter for schools and newspapers in Bac Lieu Province and HCM City. He began his music career in 1970s.
He has composed more than 100 songs, mostly folk music.
His top hits include Dem Ganh Hao Nghe Dieu Hoai Lang (Listen to Nostalgic Tunes in the Southernmost District), Dieu Buon Phuong Nam (Song of the South) and Dau Xot Ly Chim Quyen (Song of the Bird).
He has also written 60 books in different genres and is a member of the Viet Nam Musicians Association and Viet Nam Journalists Association.
He now works a freelance journalist for Thanh Nien (Young People) and Phap Luat TP HCM (HCM City Law) newspapers.
His book, Oi Cai Tuoi Trang Tron, is distributed by SaigonBooks. 
VNS