The Ministry of Culture, Sports and Tourism will take a number of measures to promote culture, sport and tourism activities in 2018 – which is considered a year of decisive significance to the nation's 2016-2020 five-year socio-economic development plan.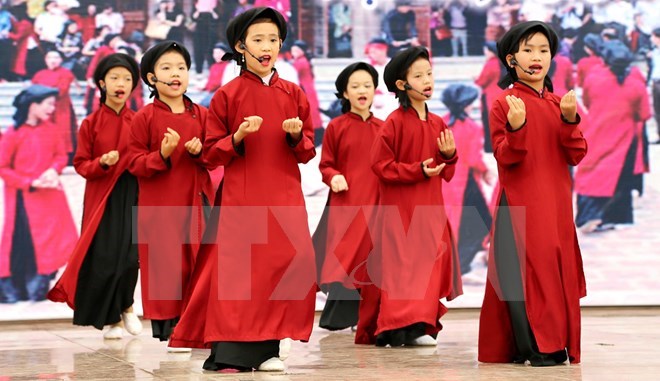 A Xoan singing performance
Speaking at a video conference in Hanoi, Da Nang and Ho Chi Minh City on January 11, Minister of Culture, Sports and Tourism Nguyen Ngoc Thien said the sector will continue to organize more cultural events at grassroots level, build a healthy cultural environment and improve the operation of the network of cultural establishments.
Last year, Bai Choi singing, a folk music genre practiced in Vietnam's central region, was added to the UNESCO Representative List of the Intangible Cultural Heritage of Humanity, while Xoan singing of the northern Phu Tho province was removed from UNESCO's List of Intangible Cultural Heritage in Need of Urgent Safeguarding and added to the Representative List of the Intangible Cultural Heritage of Humanity, raising the total number of Vietnamese heritage elements to 26.
[Top ten cultural, sport, tourism events in 2017]
Regarding tourism, the goal is to welcome 16-17 million international visitors in 2018 and earn 620 trillion VND (27.5 billion USD) in revenue.
In 2017, the tourism sector served more than 12.9 million overseas holidaymakers arrived in Vietnam, up 29.1 percent against the previous year, and 73.2 million domestic tourists, grossing over 510.9 trillion VND (23 billion USD) in revenue, a year-on-year rise of 27.5 percent.
In the field of sports, the ministry aims to develop physical training movement nationwide, especially among youths and students, towards improving Vietnamese's physical fitness and stature. 
The country will prepare athletes and coaches for international sport competitions in 2018, such as the 2018 Asian Games and Asian Para Games in Indonesia, the 2018 Youth Olympic Games in Argentina, and other Asian and global sport tournaments.
Addressing the event, Deputy Prime Minister Vu Duc Dam urged the Ministry of Culture, Sports and Tourism to build on its achievements in 2017 and devise a roadmap to prevent moral degradation in society.
He suggested promoting art and literature, contributing to the preservation of national traditional art forms.-VNA