Girl and boy bands in HCM City have taken the music industry by storm in recent years and have become new icons for young audiences. Thu Anh reports.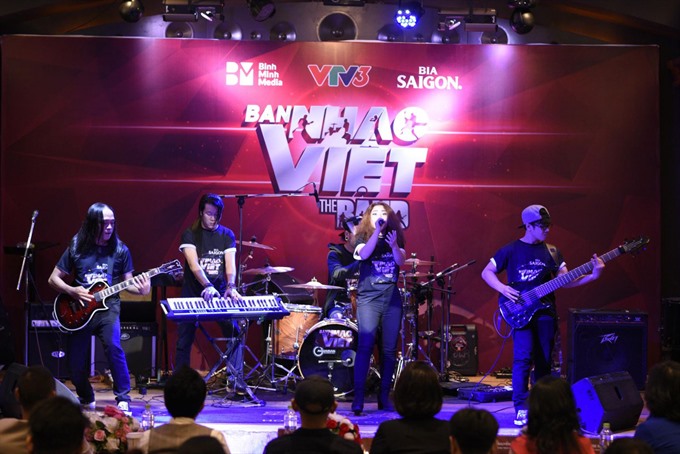 After a year of training in Vietnamand Japan, the 10-member band P366 has returned home to hone their skills and develop their professional careers.
Their first music video, Dung Ngai Ngung (Don't Be Shy), features tropical house music in both Vietnamese and English.
The MV was written, composed and mixed by young musician Khắc Hưng, winner of two Cong Hien (Devotion) Awards last year for Best Composer and Best Song by the VietnamNews Agency's The Thao & Van Hoa (Sports & Culture) newspaper.   
Dung Ngai Ngung, which is about youth and love, was released in June and has attracted 1.6 million viewers on YouTube.
"P366 is giving youth a new taste of music and hopes to have an enthusiastic response from music fans and critics," Cat Tuong, the band's manager, said.  
P366 has six girls and four boys aged 12-18 chosen from several hundred candidates from around the country by the band's producer, MCB Studio. 
MCB Studio is a joint-stock company between MCV Corporation of Vietnamand Asahi Television of Japan.
The members had to sign a 10-year contract with P366 before being sent to train at Avex Group, a prestigious music institute in Tokyo whose alumni include pop idols Ayumi Hamasaki of Japan and boy band BigBang of Korea.  
The young members studied dance, composing, performance and instrumental playing as well as English and Japanese.
The band was invited to perform with Tempura Kidz, a Japanese teen band, at a TBS Television concert before 2,000 people. 
They performed Lollipop, a top hit phenomenon in the region's music industry.
They also sang Bong Bong Bang Bang, a Vietnamese song based on folk music by young Hà Nội-based composer and music producer Lou Hoang.  
"P336 will develop its career in Vietnamand Japan," said the band's manager Tuong.
"We will add two more singers from Japan and other Asian countries in 2018. We will also work with talented composers and music producers in Hà Nội, HCM City and Tokyo to perfect our music," she said.  
New trends
P366's biggest competitor is the girl band Lip B. The band includes Mei, Annie, Yori and Na Whan, a Taiwanese-Korean dancer and singer who lives in HCM City.  
The young women were selected from more than 2,000 candidates from various cities and provinces by their producer, Sixth Sense Entertainment.
The band made its debut last year, quickly attracting attention of music producers and impresarios.
On its first album in May, Love You Want You, Lip B mixed a catchy pop style and light lyrics with electronic music.
The album, which is still a hit with teenagers and young people, has attracted nearly two million viewers on YouTube.
"I wanted my girls to perform K-pop style to meet the taste of youth. Their songs and performance styles made waves in the southern province as well," said pop star Đông Nhi, owner of Sixth Sense Entertainment.
The band's latest MV, Anh Oi Anh A (Hey You), written by Huynh Hien Nang, offers pop and dance. It has attracted more than 3.5 million viewers on YouTube.
"We are trying to bring a Vietnamese identity to our music," said rapper and dancer Annie, leader of Lip B.
Lip B was nominated for the year's best music bands at the 2017 Mai Vang (Golden Apricot) Awards, presented annually by HCM City-based Labourer newspaper.
Thuy Trang, music columnist of Laborer, said that girl and boy bands in HCM City had taken the industry by storm in recent years.
"They've become new music icons for young audiences," she said.  
The teen band Soul Club, after just a year in the industry, has worked hard to become more professional.
Its six members often practise 10 hours a day on vocal music and dance skills under professional artists from the Soul Music&Performing Arts Academy, owned by their manager, Vietnamese-Australian singer/composer Thanh Bui.
They play and sing pop, dance, hip hop and R&B in both English and Vietnamese.
"Each member of the Soul Club sings and dances well. Some of them are talented in song writing and composing. This makes their music different from other bands," said music critic Dan Khanh of HTV Magazine. 
Last year, six female and male members of the band attended and won the Golden Prize at the Asia Arts Festival in Singapore.
They performed Vietnamese and English songs, including Hello Vietnamcomposed by Marc Lavoine, Con Co (Stork) by musician Luu Ha An and La La La by Naughty Boy and Sam Smith. 
They played different instruments, including piano.
The festival attracted 500 participants of all ages from 14 countries in Asia, including the Philippines, Indonesia, Malaysia and China.
The jury presented gold prizes for best performances in the categories of solo, duo, trio, and small and large groups.  
 "Through the Asia Arts Festival, we wanted to introduce Vietnamand its music to the world," said Bùi, manager of the Soul Club.  
The band's latest MV released this month, Feel.Believe.Inspire, has attracted more than nearly 19,000 views on YouTube.
The band's new projects include live concerts and MVs expected to be completed late this year.
"We will work hard to expand our music repertoire in 2018," said singer and dancer Huy Tran, the female leader of Soul Club.

VNS