VietNamNet Bridge – HCM City has become a favourite destination for international musicians and artists who perform classical music, ballet and opera with their Vietnamese counterparts and offer training to talented locals. Phuong Mai reports.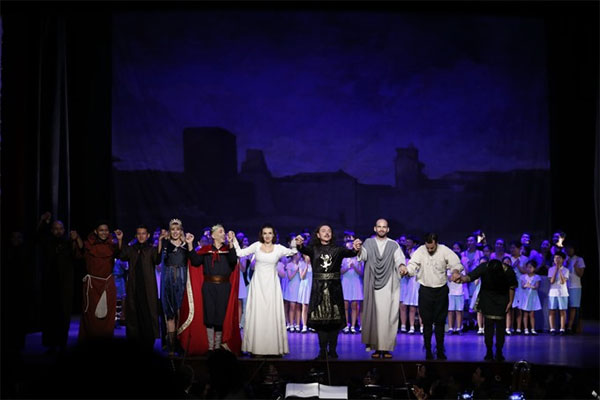 Not forgotten: French and Vietnamese artists perform in Frédégonde, a rarely heard opera by French composer Camille Saint-Saens, at the Opera House. The performance was a co-production of HBSO and French organisation La Fabrique Opéra. Photo courtesy of HBSO
This month, Die Fiedermaus (The Bat), an operetta set in Vienna in the 19th century, returns to HCM City following a performance in August that received rave reviews from local and foreign audiences.
The production is one of many classical music concerts throughout the year by HCM City Ballet Symphony Orchestra and Opera (HBSO) and Conservatory of Music are often accompanied by international musicians who view the city as a new and promising musical destination. 
German director David Hermann and vocal master Askan Siegfried Geisler worked with HBSO to produce the operetta by Austrian composer Johann Strauss II. It will be staged on December 29 at the city's Opera House.
The operetta tells the story of the two friends, Eisenstein and Dr Falke, who attend a costume party and get drunk at the end.
The morning after the party, Falke, who is dressed as a bat, wakes up in a park and is mocked by locals who call him Dr Bat. Falke believes Eisenstein left him there, so he plans to seek revenge on his friend.  
The play, whose libretto was written by German dramatist Karl Haffner and author and composer Richard Genée, premiered in 1874 at the Theatre an der Wien in Vienna.
The Vietnamese version will feature songs in German and Vietnamese, starring vocalists Cho Hae Ryong, Pham Khanh Ngoc, Dao Mac and Phan Huu Trung Kiet, together with HBSO musicians.
In August, the operetta was warmly received when it was performed during the Autumn Melody Festival, the year's biggest classical musical event in the city.
Nguyen Duc Minh, who works in HCM City's District 1, said: "I had a chance to enjoy the premiere of the operetta. It was vibrant, funny and theatrical. I was very surprised at what the Vietnamese artists could do. They performed really well."
HBSO director and Meritorious Artist Tran Vuong Thach said the group was "lucky to have help from the Goethe Institute and experts from Germany to stage Die Fledermaus, one of the most famous operettas in the world".
Hermann, director of Die Fledermaus, and vocal master Geisler, have spent six months training and rehearsing with HBSO singers, dancers and orchestra.
On four previous occasions in the city, the two men staged well-known productions, including The Magic Flute, an opera in two acts by Mozart with a German libretto by Emanuel Schikaneder.
"Vietnamese artists are smart. They learn so quickly," said Geisler.
Hermann agreed, saying the artists had surprised him every time. "We hope to have more chances to work with Vietnamese artists. They're dynamic and well-trained," he said.
For his part, Thach praised the German artists who are assisting with the local production.
"Thanks to support from international organisations and artists, our troupe has been able to stage several high-quality concerts, dance performances and plays for local and foreign audiences in HCM City," he said.
New destination
Hermann and Geisler are among hundreds of classical singers, musicians, dancers and orchestras from around the world who visit Vietnam to perform with local artists.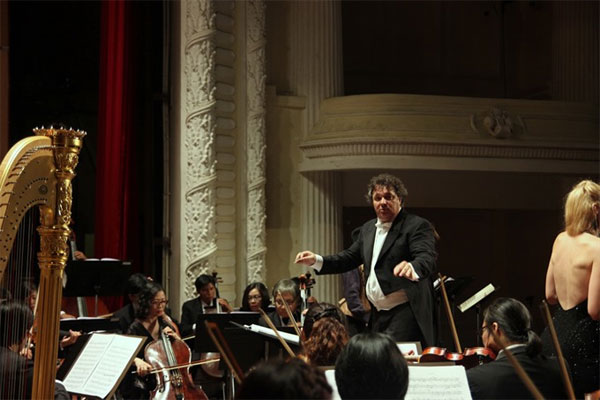 Serenade: French conductor Patrick Souillot leads the HBSO orchestra in 'A Night of Serenade Music'. Frédégonde, which debuted in HCM City. Photo courtesy of HBSO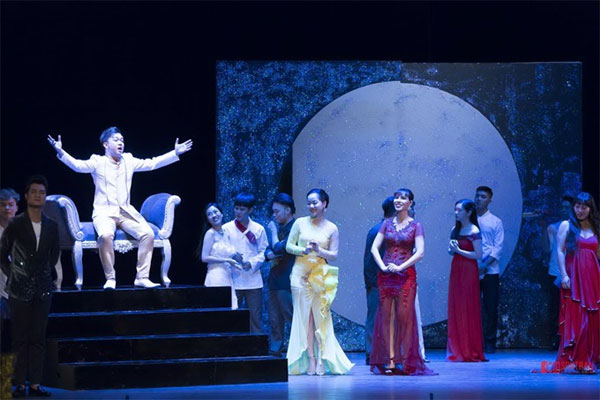 Bats: German director David Hermann and vocal master Askan Siegfried Geisler working with HBSO to stage Johann Strauss II's operetta Die Fledermaus (The Bat) at the Opera House. Photo courtesy of HBSO
"HCM City has become a new destination for classical artists," Thach said. "They often choose to co-operate with the city's Conservatory of Music and HBSO."
The conservatory's Saigon Philharmonic Orchestra has worked with foreign artists, such as Mexican pianist Gustavo Romero and South Korean pianist Kim Jee Hee in concerts featuring works by Mozart, Tchaikovsky, Beethoven and Bach.
To celebrate the New Year, the orchestra has invited Maestro Urai Urrecho of Spain to lead a concert on January 20 featuring joyful compositions.
As the biggest artistic group in the city, HBSO offers three shows monthly, including concerts, operas, and ballet and contemporary dance performances.
Many of the shows feature overseas Vietnamese artists, such as Vietnamese-British pianist Bich Tra and Vietnamese-French violinist Stephane Tran Ngoc, as well as artists from Germany, France, Russia, South Korea and Japan, including conductors Daniel Gazon of Belgium and Stefano Meceli of Italy
"We're proud to say that HBSO's fame is known around the world," said director Thach.
Training
Many organisations and individuals from France, Germany, Norway, Russia, South Korea and Japan have sent artists to HCM City to perform with and train local musicians.
This year's Autumn Melody Festival, for example, welcomed 12 young talented musicians from the Spivakov Foundation from Russia, the Sakura String Orchestra Kitakyushu from Japan, the International Ensemble from the US, and soloists from Russia, Germany, Canada and Macedonia.
"Thanks to their support and to the participants, HBSO had a great festival with 11 sold-out shows featuring chamber music, operetta, and dance performances," Thach said.
Apart from giving performances, foreign artists also offer training to local musicians and dancers.
In August, the conservatory launched a music camp to provide training in classical music and instruments for young musicians in Vietnam and from regional countries.
The organiser invited award-winning quartet Notos from Berlin and Vietnamese-British pianist Bich Tra to give the lessons. 
It was the first time the conservatory had hosted an international standard music camp, according to Meritorious Artist Ta Minh Tam, deputy director of the conservatory.
"We're honoured to have international artists join us. They're very professional and we, both lecturers and students, have learned a lot from them," he said.
Nguyen Phuc Hung, a graduate in choreography from Fontys Dance Academy in the Netherlands, who is general director of all of HBSO's performances, said: "The visits of international artists are very helpful for our performers.
"Local audiences also benefit from the visits because the training helps local musicians and dancers not only improve but offer high-quality performances," he said. 
VNS