VietNamNet Bridge – Composer Duong Cam is also a producer with many sold-out albums and big shows in Hanoi to his credit. But he was not very popular in HCM City, the promising destination for young singers, until he appeared on the television game show Celebrity Battle's first episode on November 17. The episode ended with a battle between producer Cam and singer Miu Le. Cam's straight comments hurt the singer, but also put him in the public eye.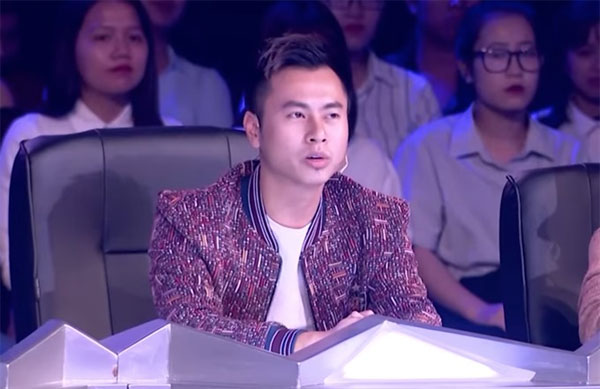 Composer Duong Cam
The original game show is from China, where eight celebrity singer-producer duos compete for the Top Music Duo title. Challenged with a different music genre each week, they must try to impress the real judges - the audience.
Cam's songs have been performed by popular singers like Phuong Linh, Ha Anh Tuan and Tan Minh. His music focus is mostly pop ballad and semi-classical. His Mong Anh Ve (Wish You Come Back) won Best Song of the Year in 2005 and Bien Va Anh Trang (Sea and Moonlight) was among the Top Ten songs at Green Wave Music Awards 2007.
He spoke about his participation at Celebrity Battle and on qualities needed to become professional singer.
What did you think when you suddenly became known as a demanding musician at Celebrity Battle?
It is possible that many people think that I make shock statements at Celebrity Battle to get noticed. Actually, the comment that shocked singer Miu Le was just my personal, expert opinion, aimed at improving show's quality. I think it is normal. Frankly, all producers at the show know about the contenders' shortcomings, but they don't want to be confrontational. If I will not speak out who will?
You say you speak what you think, but you are hated by some people. Your partnership with singer Duong Hoang Yen has not received many votes from the audience. How do you feel about that?
I think that 100 people at the studio do not represent all listeners. The game show is also for many other music lovers who are television watchers. If I say things to please the studio audience I will not be myself. After the first episode was aired, I received both criticism and support. It is a good to know that there are large numbers of people who support my perspective.
Winning or losing depends on the audience at the studio. It is difficult for the participants and our team in particular. The show is shot in the south, where audiences don't know much about the artists from the north. Both Yen and I are from the north. However, at the beginning we agreed that we will try to give our best performances. If we are not favoured and voted by the audiences to enter the next episodes, we would not be ashamed.
How did you and Yen team up for the show?
When musician Huy Tuan, the game show music director invited me to participate in it, I asked for a singer with my requirements. I said my partner at the game show must be a professional singer who is open-minded and willing to receive new ideas and understand the view and knowledge of others. There are not many celebrities who meet the demand. The game show producers suggested Yen. It is good that we are in Hanoi and we have more time to work together.
It has been noted that many Hanoi-based singers are well trained in musical schools but they do not have many hits. What do you think?
Factually, HCM City-based singers have many more hits than their peers in Hanoi. But audiences don't know that behind the hits are producers from Hanoi. They just know the singers who sing the hit songs.
I think that a good singer does not necessarily mean someone who is more famous. The audience tends sometimes to follow the trend. So they assume that the singer who gets many hits on a website must be famous. Singers in Hanoi have older audiences who are aesthetically aware. They buy CDs and music on Itunes instead just listening to music free online. I think online hits cannot be solely representative of the music scene.
Is it true that emerging singers have been ignored or sidelined?
If emerging singers are deserving nobody will dare ignore them. Celebrities, including "hot boys' and "hot girls," can make a music production to present to their fans. But it takes a journey to become a professional singer. When a person wants to become a singer he or she needs to think carefully, unless he or she is a genius. People have to work hard to become good singers.
For example, take a popular singer like Ha Tran, who did not have a good voice at first. When she was emerging on the scene, some people don't like her. She worked hard, practiced and made great efforts to be recognised. She is a good exemplary for people who want to become singers. 
VNS