VietNamNet Bridge – In the infotainment business, the private life of famous people is a commodity that sells well, the more scandalous the better. Often this takes the form of satisfying what can be described as morbid curiosity.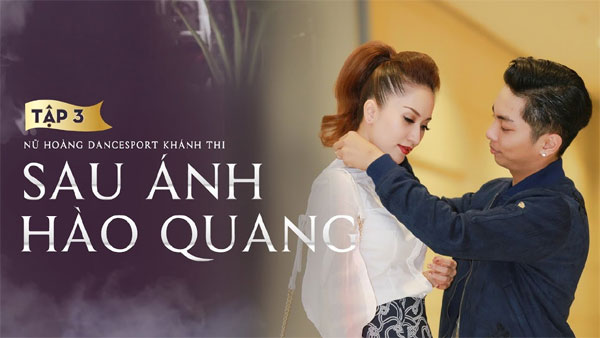 Show Sau Anh Hao Quang – (Illustrative image -- File photo)
So it is "understandable" that television channels in the country have met the audience's craving appetite for celebrity scandals with a number of shows delving into the private lives of famous people.
From an artist's point of view, such shows are opportunities to connect at a deeper level with the audience, to bare their heart, to confide their inner feelings as well as dark sides of their lives. Sharing their struggles, both in their professional and personal lives, can elicit the sympathy and understanding of the public, not to mention a greater appreciation of the struggles, sweat and tears expended by celebrities in getting to where they are.
Thus, the private lives of celebrities have become a segment that delivers shows like Sau Anh Hao Quang (Behind the Flashlight), Lan Dau Toi Ke (First Time I Tell), Chuyen Toi Nay Voi Thanh (Talk with Thành Tonight) and Nguoi Ke Chuyen Tinh (Love Story Teller) are being broadcast on television.
Such shows, currently being broadcast on television, tend to deal with the sorrows in the lives of artists – domestic violence, betrayal in love, divorce and so on. A model recalls her seven-year love story with a man who is gay, a married singer says she was once pursued by another singer for years and rejected him, and an actress blames her husband for their divorce. By themselves, these stories can be interesting, but what is the interest in telling then, publicizing them? Is it just a desire to share, or are there ulterior motives?
In many of these stories, the names of the 'victims' are not revealed, but everyone knows who they are. Do they get any chance to tell their own stories? What if they do not want to wash their dirty linen in public? What if they want private matters to remain private? Of course, there can't be clear-cut general answers to these questions, they have to be dealt with on a case-by-case basis. In one case, the exposure may be justified, and in another, it may not be. But these questions have to be asked, each time.
The question of ulterior motives in telling stories and eliciting sympathy came up again when comedian Duy Phuong decided to sue the show Sau Anh Hao Quang for broadcasting unjustified claims that defamed him.
Phuong's ex-wife, also an actress, had told the show that she suffered a tough marriage and was abused seriously by her ex-husband. The claim affected his image and his business – his restaurant reportedly lost a lot of customers.
The other side of this story could also be this: the ex-wife has been accused of neglecting their children, for being obsessed with plastic surgery, while her husband had to struggle to raise their kids. 
"The television shows are overusing the past of artists. Following these shows, I just see condemnation, hatred and negative feelings. I think the ultimate aim of the shows is to bring artists closer to the audience and to give the audience a multi-dimensional perspective on the artists, but in reality it just focuses on break-up, divorce and betrayal," said Le Thi Thu, a university student in Hanoi.
Echoing similar sentiments, Ta Thu Huyen, a mother of two from Hanoi, said: "With the name Behind the Flashlight, I expected to hear more about the stories behind the artist's success. There was one episode featuring the journey of an actor to success, which I like a lot but till recently, it's all about divorce and betrayal."
Marketing officer Bui Huong Giang was skeptical about the value of such stories.
"The artist who is invited to join the show may be under some obligation to tell a story that draws interest from audience. Therefore, it is hard to tell if what they are sharing is real or exaggerated or just made up," Giang said.
Comedian Xuan Huong said: "Soon after I got divorced, a TV channel invited me to join a show but I turned it down. I didn't want my personal life to be exploited."
Agreeing with Huong, cai luong (reformed opera) artiste Kim Tuyen said: "I am against shows that aim to exploit the painful pasts of artistes."
Actor Quang Minh said: "There are many good sides to artists – their talent, dreams, aspirations and resilience. Television shows should focus on these aspects rather than the negative ones. Life will be better if we look on the positive sides of the others."
Laywer Le Trung Phat told the Tuoi Tre (Youth) newspaper: "People in the eastern culture are less likely to disclose their personal stories freely. The show, whether intentionally or unintentionally, exploits the personal lives of others, is against moral principles. If the third party feels that the show (including the participant artiste) is defaming them, then they have the right to sue the show."
Former judge of the Supreme Court Nguyen Thi Kim Vinh told the Phap Luat (Law) newspaper: "This show was not broadcast live, therefore, the organisers definitely could have edited the content. Mentioning the past can also affect their children who are adults now.
"Suppose the children admitted that their mother was indeed abused, then the show may serve the purpose of conveying a message against domestic violence. However, in this case, the actress and organizer should make an official apology to settle the case."
Yes, the organisers should leave out improper content that may hurt other people, and be able to ensure that it is authentic information that goes out to the viewers, but I think we've had enough melodrama, what with MCs – males included – and participants shedding tears for the camera.
Even real stories become fiascoes when there is an ulterior, commercial motive behind telling them. 
Hong Van
VNS