Martin Rama was the World Bank's Lead Economist for Vietnam from 2002 to 2010 and is the author of many books about Vietnam and Hanoi in particular. He has developed his great love for Hanoi since he first came here 20 years ago.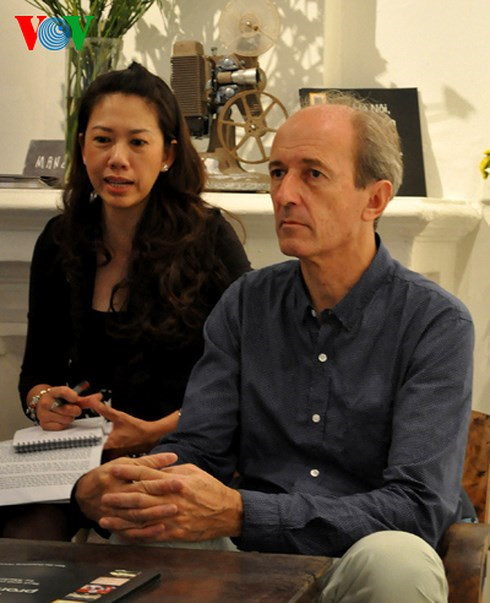 Economist Martin Rama at the launch of the Vietnamese version of "Hanoi Promenade"'.
Uruguay-born Martin Rama first arrived in Hanoi in October, 1998, and has lived here since 2002 when he was appointed the World Bank's Lead Economist for Vietnam.
His love for Hanoi is captured in the book "Hanoi Promenade" which was written in Spanish and nominated for the 2017 "Bui Xuan Phai – For the Love of Hanoi" award. 
The book accompanied by colorful photos of Hanoi illustrates his unique view of this city, which is in rapid urbanization but still worth living in. Hanoi is described by Rama as beautiful and dynamic with its busy street life. 
Streets in Hanoi create a vivid picture of heavy traffic, street vendors, and street side beer shops. Foreigners may see them as quite messy but that's Hanoi's colorful hectic life.
Rama said, "I think there are two things that make Hanoi very special to me. The first is the combination of Asian, French, and Soviet-styled architecture which, to me, have their own Vietnamese characters. Even the French style is not really French but still Vietnamese. Their style diversity is very attractive. Second, Hanoi has a very vibrant life outdoor. People do a lot of things on sidewalks. Hanoi has a sidewalk culture. Paris has a coffee culture. The question is how to preserve it when the city is modernized"
What impresses Rama most about Hanoi are the flower street vendors he calls "mobile flower gardens". He thinks such gardens make this city charming and so jubilant he cannot describe it with words.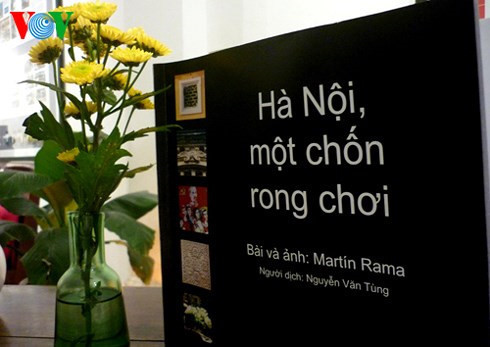 The Vietnamese version of the book "Hanoi Promenade"
In his mother tongue, Spanish, every object has a gender so Hanoi needs a gender, too. In the book "Hanoi Promenade", Rama calls Hanoi a lady – a pretty but prissy lady. 
He elaborated, "We all love Hanoi but we have to say exactly what you love about it; otherwise, you don't know what you need to protect. I was living here and loving this city. I'm really wondering what's so different about Hanoi. This book 'Hanoi Promenade' tries to explain my thought. For example, 'Pho' is very tasty and makes you wonder what makes it so special, then you look at the recipe and find about 20 ingredients that perhaps, if you miss some, you cannot have a very good 'Pho'. My book has 20 chapters and each chapter is an ingredient of Hanoi: architecture style, daily lives, history, and so on".
Rama spends much of his free time walking or riding his bicycle to every corner of Hanoi and taking the photos, mostly of the city's architecture. 
Ha Trang, who read "Hanoi Promenade" several times, said, "It's neither an academic book nor travel manual. It's Rama's own record of his love for Hanoi. I really love his personal experience of Hanoi and his photos capturing its daily activities. He must love this city a lot to devote such much effort to this book".     
Asked "What makes Hanoi worth living in?" Rama said that while many Asian cities have become ugly and boring, he finds here his full happiness, not just a place to live.
VOV5