VietNamNet Bridge – The art of making poonah paper from the bark of a tree for artwork and votive offerings is being revived in Yen Thai, a village outside Ha Noi that made the product for at least 600 years.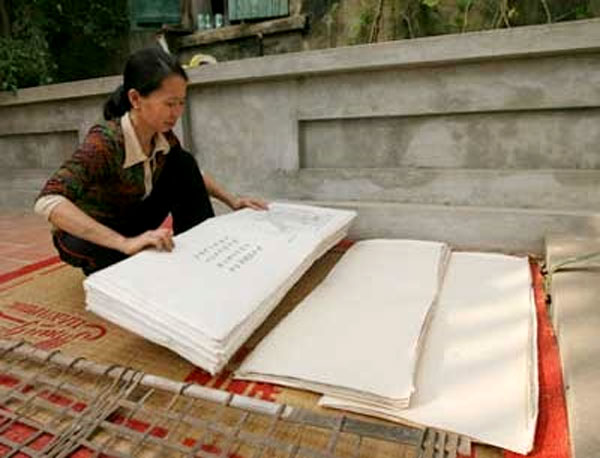 Strong: The poonah paper of Yen Thai Village is an ancient art handed down for centuries. — Photo Thang Long Ha Noi - Gocom.vn
The paper making will be centred in old style houses open to visitors early in the new year. The work is being carried out by Tay Ho District's People's Committee.
The houses will be placed in the campus of the Memorial of War Heroes and Martyrs, situated at 189 Trich Sai Street, Buoi Ward, Tay Ho District.
The Memorial will also be used to introduce and display documentaries on Yen Thai craft village and beautiful sites in Buoi Ward.
Yen Thai Village is located near West lake. It once had 126 households making poonah paper. 
A private zone displaying sourvenirs, antiques, gemstones, Hang Trong, Dong Ho folk paintings, caligraphy and other specialties from Tay Ho District will also be built for tourists, together with another area for outdoor leisure and entertainment.
The production of the special paper will held every day of the week and will involve tourists taking part.
Every Friday night, traditional perfomances will also be held. Tourists are also able to take part in some interaction activities with locals in the process of making the paper. 
Vo Bich Thuy, chairman of Tay Ho People's Committee and one of the members of the organising board, said the restoration created a new destination for tourists, as well as help preserve local values.
"Production remained until 1991, when the co-operative broke up due to a shortage of materials. There are very less of craftsmen who are still working in the village until date and most of them have retired now. I think this is really an opportunity to revive this traditional arts and crafts making," she said. 
VNS