VietNamNet Bridge – On Saturday night, Tran Minh Phuong (known by his rap names Cao and MPaKK) and the two other members of independent rap group Da LAB – Nguyen Trong Duc (Tho and Rabbit Run) and Vo Viet Phuong (Thom and JGKiD) – will take to the stage at the Imperial Citadel of Thang Long in front of 10,000 fans at the Monsoon Music Festival. Phuong, who until recently worked a day job in the construction industry, said that there had never been a moment during Da LAB's 10-year history when he imagined they would one day play at Viet Nam's biggest music event.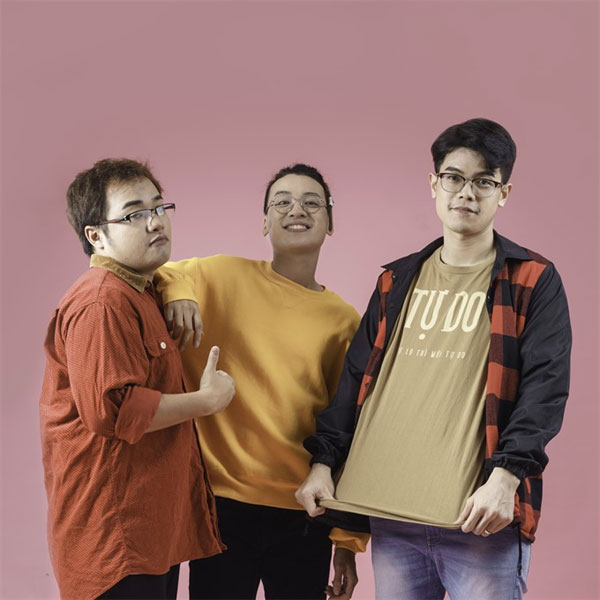 Da LAB - Tran Minh Phuong, Vo Viet Phuong and Nguyen Trong Duc - will play at Monsoon Music Festival on Saturday night. -- Nam Beat
"For people like us, it's like a dream come true," said Phuong, who noted that the group has no professional music training. "I've had a lot of dream-come-true events in my music career: our first concert, our national tour, then this. But this is very mainstream and at a very high level of professionalism. They finally recognise us."
The 2017 Monsoon Music Festival, which runs from November 10-12, is a kind of homecoming and coronation for two of the country's biggest indie acts, both from Ha Noi: Da LAB and indie rock group Ngot. The groups will play on Friday and Saturday nights, respectively. Other acts at the festival, which consists entirely of indie performers this year instead of big headliners like Joss Stone and Scorpions, include fellow Vietnamese singer Nguyen Dong Hung, Belgium's Lost Frequencies, South Korea's Biuret, Bud from the United Kingdom, and musicians from Germany, Israel and Denmark. About 10,000 people are expected to attend on each day.
The story of Da LAB's rise over the last 10 years is part of a larger trend in the capital and across Viet Nam: independent acts are writing their own music, playing shows in their hometowns, putting out albums and touring the country, gaining hundreds of thousands of fans along the way, all without record deals or official support. The lineup of the Monsoon Music Festival confirms that Vietnamese indie acts are starting to go mainstream – if not in style or attitude, then at least in terms of popularity.
Like Da LAB, when Ngot plays Monsoon, they'll be reaching their largest-ever live audience. Bassist Phan Viet Hoang said the group is "a little bit nervous," and has been practicing 10 hours a day with the world-class instruments and technology they'll use at the Festival, on top of working their regular 9-to-5 jobs.
"It's a big experience of us, since we never had the chance to play a big gig or have the best atmosphere," Hoang said. "It's amazing, you know, because the sound is fantastic and we have the best equipment. It's going to be like international-standard."
Quoc Trung, director of the festival, said that he chose Da LAB and Ngot based on the quality of their music, which he describes as bringing "freshness, creativity and personalities, very different from many other projects in the music market, which is already poor in terms of genre and diversity." Earlier this year, Ngot released their second album, Nguoi binh thuong (An ordinary guy), and played a sold-out show for 3,000 fans in Ha Noi, before touring HCM City. Da LAB's recent hits include "Tu Ngay Em Den" (From the day you came), the music video of which has been viewed over 13 million times on YouTube.
Trung hopes the groups' performances at Monsoon will help them further build their audience and reputations.
"I want to introduce to the audience new faces, new music genres, enriching the musical scene while creating new opportunities and motivation for them to grow," he said.
Promoting a culture of live music appreciation in Ha Noi has been one of the Festival's goals since its inception in 2014. Monsoon hosts free "street shows" on weekend evenings in the run up to the main event. Here, local bands can perform for fans and introduce themselves to new audiences in a casual setting.
Nguyen Huu Quy, the drummer and percussionist of Ha Noi alternative rock band Nhung Dua Tre (The Children), also performed at a street show last year. He said the experience illustrated the power of a major event like Monsoon to attract listeners who might not show up at smaller concerts held at the venues where Nhung Dua Tre plays regularly.
"The street show is a good way to introduce people to live music," he said. "People in Viet Nam, especially Ha Noi, are not likely to go out and listen to live music. The Monsoon street show builds a habit for people to do that."
The street shows can also help young bands get experience performing for new audiences, which is helpful as they seek to improve their musicianship and performance style. Last year, Da LAB played one such show.
"When we performed at the street show, we thought, 'This is the highest level we can get to,'" Phuong said.
On Saturday, Da LAB will level-up in a significant way. Phuong said the group plans to assess their next steps after Monsoon.
"For now we can only tell each other to focus on music, make as much as possible," he said. "Maybe that's what we have been doing for years."
by Isabelle Taft
Source: VNS