Animals Asia Animal Welfare Director David Neale has called on Hai Phong City authorities to put an end to the buffalo fighting festival.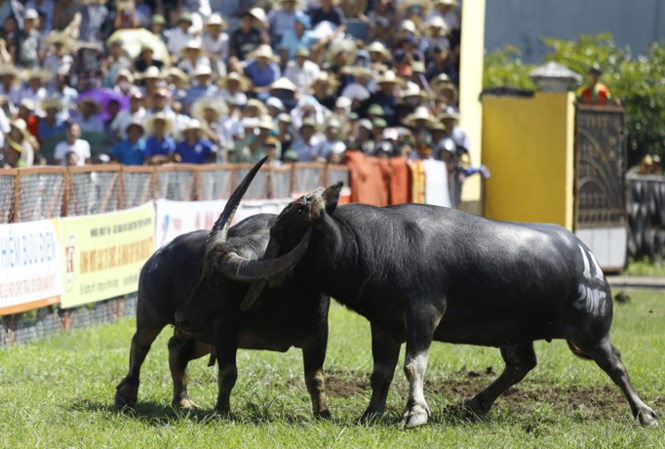 A buffalo fight held on the opening day of the Do Son Buffalo Fighting Festival 2017 on September 28 in Hai Phong City
Neale has sent the letter to Hai Phong People's Committee, the city's Department of Culture, Sports and Tourism and Do Son District People's Committee.
Neale said buffalo fighting were contrary to portraying a modern and dynamic Hai Phong.
Animals Asia also said the killing of the animal participants for their meat played a role in desensitising humans to animal suffering, especially children.
The buffalo fighting festival also recorded a human fatality on July 1 this year when buffalo owner Dinh Xuan Huong died from multiple wounds after being gored by his own animal. Referees and crowd members were also injured by buffalo in 2006 and 2007.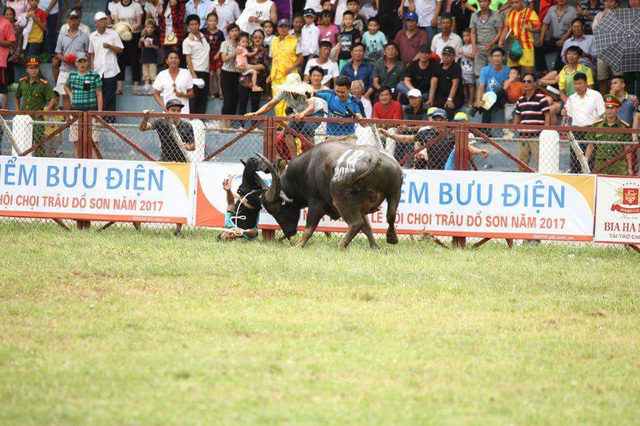 A man is gored to death by his buffalo at the qualifying round of the Do Son Buffalo Fighting Festival 2017 on July 1.
Neale called for more emphasis to be put on traditional features, while customs that were no longer suited to modern life should end.
Animals Asia debated the role of animal sacrifices in cultural events. According to Animals Asia's Animal Welfare Officer Nguyen Tam Thanh, in 1991, Do Son's buffalo fights had just six buffalo but this year it had increased to 18. It shows that even though only the residents of Do Son District are allowed to participate in the buffalo fighting, the buffalo are bought from everywhere in Vietnam and overseas including Myanmar, Thailand, Cambodia and Laos.
Animals Asia also raised concern over the diets and training schedules of the buffalo. The buffalo were also given beer, ginseng, honey and python fat. Some even had their horns filed to be sharper before the competition. The AAF said the festival could send the wrong message and that it needs to improve with time.
After the deadly accident on July 1, the festival was halted in order to gather opinions from managers and experts. However, there are conflicting opinions over whether Vietnam should ban the festival completely or tighten management.
In September, the Ministry of Culture, Sports and Tourism gave permission to continue the festival but demanded better security.  
Dtinews