VietNamNet Bridge – Hoi An, said to be one of the top 10 romantic cities in the world, has 'down-to-earth' attractions like tailoring and shoe making that will attract even those determined not to engage in any shopping. Bui Quynh Hoa writes.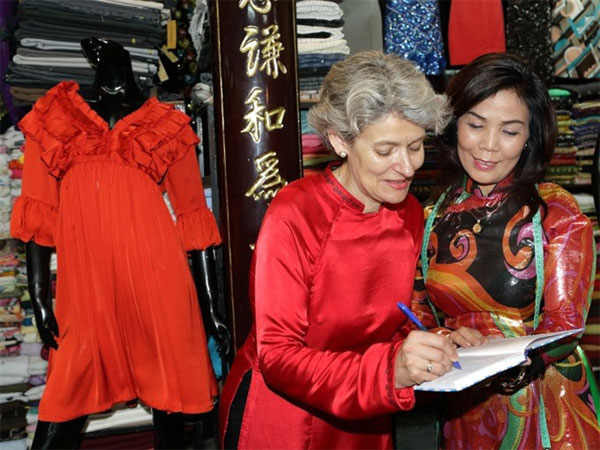 Happy: Delighted with the service, a foreigner records her appreciation at Thu Thuy Tailor. Photo courtesy of Thu Thuy Tailor
When we arrived in Hoi An, my friend knew she wanted to get a shirt tailored for her husband, however I was insistent I didn't want one that my husband would not wear. Further, I promised to do nothing but discover the ancient town, although I'm a shopping lover. But when we left the town a day later, I not only had one, but five shirts tucked away in my suitcase. So how did this happen?
After two days enjoying our newspaper's celebration on its 26th anniversary at the French Village - Ba Na Hills Mountain Resort in Da Nang City - we decided to extend our trip for two days to discover Hoi An, an ancient town of colourful lanterned nights, old houses and shops, delicious food - and friendly people.
Located on the banks of the poetic Thu Bon River in the central province of Quang Nam, about 30km south of Da Nang, Hoi An, is an oriental classic. With its strategic location next to the sea on the banks of the great river, it used to be one of the main trading centres in Southeast Asia during the 16th century.
With its tranquil beauty, the ancient town, recognised by UNESCO as world cultural heritage in 1999, is the most mentioned place by foreign tourists visiting Viet Nam and has been called one of the top 10 romantic cities in the world.
Hoi An is famous for its lantern festival, which is held on the 15th day of every lunar month. It bathes the old quarter in a warm glow of coloured silk, glass and paper lanterns.
The day we came to town the air was cool. Joining the stream of local and foreign visitors, we strolled along winding lanes; enjoyed tao pho (sweet soya-bean curd puddings), and kem ong - tube ice cream, a popular sweet in the town.
We went window shopping, of course. Everyone in our group went crazy for the eye-catching designs for ao dai (the Vietnamese traditional long dress), suits, dresses, shoes, necklaces, bracelets and rings displayed in hundreds of shops along the lanes. I was no exception. I forgot all my promise about shopping.
Combing the town, I realises the tailors were well-known throughout the world. Many can trace the trade through several generations of their family, and it's not only women using needle and thread.
With deft fingers and keen eyes, the tailors are known as master craftsmen, able to copy any design. If you show them a picture of a coat, suit, dress or shoes, you can expect a nearly exact replica to be produced within 24 hours.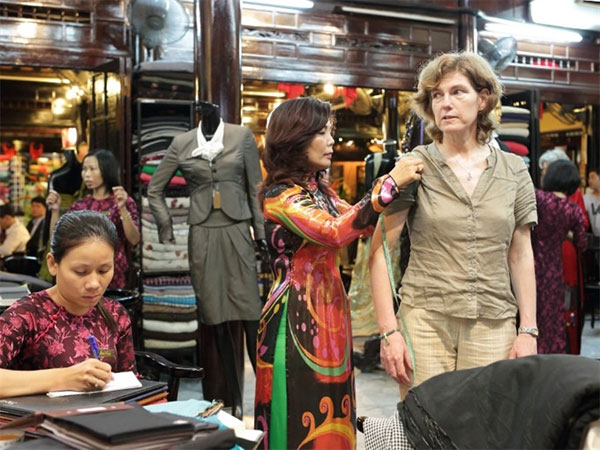 Quick time: Tourists can have a deluxe suit of fitted dress made-to-measure in just 24 hours. Photo courtesy of Thu Thuy Tailor
Lured by eye-catching suits on mannequins, we went to Thu Thuy Tailor, one of the oldest shops in the town.
The old woman in the store greeted us with a friendly and trusting smile. She introduced us her shop's designs and a wide selection of fabric, both imported and local, in cotton, wool, cashmere and silk.
I told her about the style, fabric and colour of the shirts that I want her to make for my husband. In about half an hour, I finished choosing fabric, then realised that I was unsure about my husband's size, apart from his height and weight. She asked me about his waist measurement and told me not to worry, they would be fine. I trusted her, but remained a little worried about the final product.
The next morning, we went to Cu Lao Cham Island and only returned in the afternoon. The time for her tailoring was short, but she had finished my order and shipped it to Da Nang, about 30km from the old town. The shirts were exactly what I asked for. I was extremely happy with the service.
A big surprise was the low price of the shirts. I ended up spending VND1.5 million (about US$66) on five tailored shirts, which were unique, stylish, well fitting, and with high quality stitching and fabric.
A friend also told me about the shoemakers. "Give them your treasured old pair of leather footwear and next morning you have one or two replica pairs for half the price you paid in France - and in similar, top quality leather," she said.
And of course it wasn't just me shopping, my friends were too. Thanh Nga went a little bit crazy when she discovered the costs of necklaces, bracelets and earrings in the town. "I bought two necklaces, one bracelet and 15 earrings at just VND500,000 ($22)," Nga said.
"They're all handmade, so cute and impressive. And the most lovely thing was the low price. I could not buy all these things at such a price in Ha Noi or any other city. It made me forget my tiredness after a day of strolling and shopping," Nga said.
Bach Lien had the same idea as Nga. "It was my third trip to Hoi An," Lien said. "I love coming here to visit the romantic villages and ancient houses, contemplate gorgeous lanterns, and buy beautiful arts and crafts at low cost. This time, I bought several dresses and earrings.
"Hoi An's become very touristic, but its inhabitants stay kind and warm-hearted. It's the people here that make me want to come back," she added.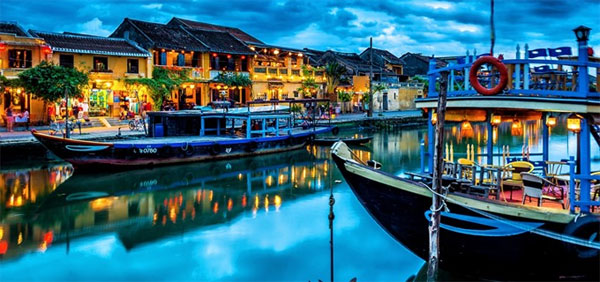 Well known: With its tranquil beauty, Hoi An often appears in polls of tourists as a charming and attractive place. Photo courtesy of hoiandanang.com 
Another reason to fall in love with the ancient town is that most tailor shops in Hoi An do not bargain. I am so used to bargaining, and I wasn't expecting a set price. At first, I was absolutely shocked when the tailor refused to come down on cost. Despite this, I bought five pieces, not one. But I felt better to hear her say: the price was already so reasonable, there was no way she could possibly go lower. I thought she's right too. For those who are useless at bargaining, this is a dream come true.
After several months, my husband still gets many compliments every time he wears his shirts. And they are holding up well in the washing machine.
"I love telling my friends where you got the shirts," my husband, who is hard to please about dress, told me. "They ask every time I wear them."
I now regret not buying a dress for myself. I already have plans to go back, and this time with a big empty suitcase!.
Recommended tailors in Hội An
YALY COUTURE:
47 Nguyễn Thái Học St / 47 Trần Phú St / 358 Nguyễn Duy Hiệu St; Tel: 84-235 3910474 / 84-235 3861119 / 84-235 3914995 ;Email: yalyshop@dng.vnn.vn or quynh@yalycouture.com
Yaly is probably the most popular name if you ask for a good tailor in Hội An. It is professional and has the biggest variety of fabric in town. It's a good place to have elaborate items made: apparel with sequins, ruffles, multiple layers of fabric, bead work and embroidery. Despite being the most expensive in town, Yaly has won acclaim as the higher prices go with guaranteed quality and efficient service.
A DONG SILK:
40 Lê Lợi St / 62 Trần Hưng Đạo St - Tel: 84-235 3910579 / 84-235 3861386 - Email: info@adongsilk.com
A Dong Silk is favoured for quality and attentive service. The secret of its success lies largely in its attention to customer satisfaction. Most customers praised the staff for being very friendly and patient, as well as their knowledge of how the fabrics work with different garments.
Not a cheap place, but one still reasonable for such high quality and service.
BAO KHANH SILK:
101 Trần Hưng Đạo St; Tel: 84-235 3861 818; Email: baokhanhsilk@vnn.vn
This popular tailor specialises in made-to-measure fashion, formal wear and casual clothing. It once been featured in The Sunday Times Travel as the best clothing shop in Việt Nam and the second out of the world's 25 best clothing shops. Bao Khanh Silk has a dazzling range of silks, a talented team of tailors and wallet-pleasing prices.
THU THỦY TAILOR:
60 Lê Lợi St / 23 Trần Hưng Đạo St; Tel: 84-235 3861699 / 84-235 3911321; Email: thuthuysilk@vnn.vn
Thu Thủy Silk is the oldest and largest shop in town. Named after its owner, Madamme Thu Thủy, this shop has been in business since 1989. It has developed into one of the best places for tourists to have a deluxe suit or dress made-to-measure in the shortest time. In addition, with their attention to details, smiling service, and pleasant surroundings with a coffee bar and free Internet access, this shop can make your waiting a real pleasure.
TONY the TAILOR:
294 Nguyễn Duy Hiệu; Tel: 84-235 3861923; Email: tonythetailor.ha@gmail.com
Tony and his family opened their shop in 1996. Despite being a little outside the main traffic area, the shop is still highly regarded since they have a great reputation for warm, friendly service and reasonable prices. Men's suits are especially well done here.
B'LAN SILK:
23 Trần Phú St; Tel: 84-235 3861866; Email: bichlan456@yahoo.com.vn or bichlan3456@gmail.com
This shop is in a house built more than 200 years ago. Customers can have a free tour of the house before having their clothes made by skillful staff. The owner of the house and the shop is Ms Bích Lan who is sweet, hospitable and known for her "no-bargaining policy". Here every customer can be sure that they all get fixed with very reasonable prices.
BE BE TAILOR:
11 Hoàng Diệu St / 95 Phan Châu Trinh St / 40 Trần Hưng Đạo St; Tel: 84-235 221 2670 / 84-235 3923678 / 84-235 3923399; Email: bebetailorhoian@gmail.com or contact@bebetailor.com
Be Be Tailor is consistently great, both in terms of workmanship and service. The tailor can do more than 1,000 orders  a week.
KIMMY TAILOR:
70 Trần Hưng Đạo St; Tel: 84-235 3862063; Email: info@kimmytailor.com.
Like Be Be Tailor, Kimmy Tailor can do more than 1,000 orders in a week.
TƯỜNG TAILOR:
67 Trần Hưng Đạo St, Hội An; Tel: 84-235 3864073; Email: bituong@gmail.com
The tailor has a glitzy website, but a much more modest storefront. Sales staff are friendly without being pushy. A bonus is the owner also has a leather shop just next door (09 Leather Shop, 65 Tran Hung Dao St, Hội An; Tel: 84-235 3863575; Email: bituong@gmail.com). VNS