Vietnamese contestant, Nguyen Tran Phuong, and Thai contestant, Ravisut Patipatvasin, emerged the top winners at the first ever Almar Hanoi International Festival and Competition held in Hanoi.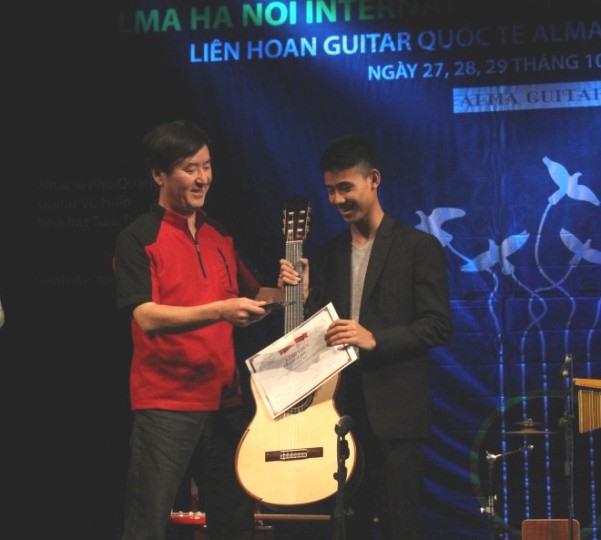 Ravisut Patipatvasin from Thailand won an Almar guitar of US$5,500. — Photo thethaovanhoa.vn
At the competition, held between October 27 and 29, Phương won the title in the under 17 years category and took home an Alma guitar worth US$2,500, while Patipatvasin topped the open group category (no age limit) and won a guitar of $5,500.
During the event, local audiences had the chance to watch professional performances from various famed guitarists throughout the world, including Phạm Văn Phúc, Vũ Hiển, Châu Đăng Khoa and Lê Thu from Việt Nam, as well as Enrique Muñoz Teruel from Spain, Natavut Natakarn from Thailand and Ekaterina Pushkarenko from Russia.
"The 25 contestants this year possess high quality skills and some of them proved to be more distinguished," said guitarist Vũ Hiển, head of the jury, "I was moved after watching the 8-year-old contestants, who showed a passion for the classical guitar style. I'm happy to see the classical guitar style revived."
The event lasted for only three days but attracted a large audience, he said.
"Guitarist, Lê Thu, performed so well," said a member of the audience, Thu Hà, "When watching her playing the Les Feuilles Mortes with her own fresh style, full of emotion, I almost burst into tears." — VNS