VietNamNet Bridge – Viet Nam's picturesque landscapes and mystical monuments have found katazome expression at the hands of Japanese artist Toba Mika.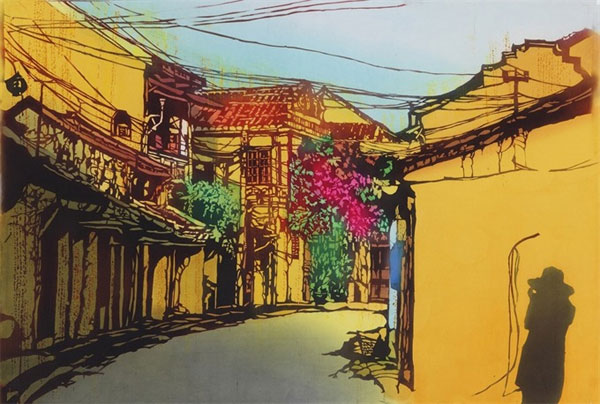 Walls and shadows: A Hoi An street captured by Toba Mika.
A selection of her works is on display at the Da Nang Museum of Cham Sculpture.
More than a thousand years old, katazome, or stencil dyeing, is a Japanese paste-resist surface design technique for cloth and paper. 
The complicated process incorporates elements of both printmaking and painting, and relies on simple non-toxic materials such as rice paste, natural pigments and soymilk. 
Katazome was used in creating samurai outfits, clothes of kyogen comic performing artists, or kimonos.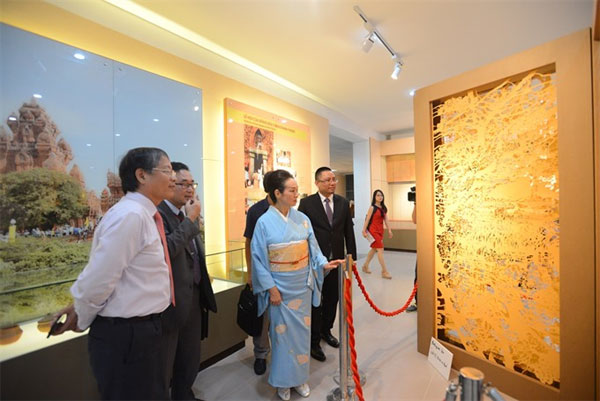 What I've done: Artist Toba Mika introduces her paintings to visitors at the exhibition in Da Nang. — Photo courtesy of organiser
Mika, who has a Masters degree from the Kyoto City University of Arts, has developed a new style of painting by using the traditional katazome method.
When she first came to Viet Nam in 1994, the artist immediately felt an invisible connection between katazome paintings and Viet Nam's scenery and cultural heritage, and this prompted her to make several trips to Viet Nam.
She found inspiration in everyday scenes, like the railway track in Ha Noi that passes very close to a row of houses and a lone boat on the Huong River in Hue early in the morning, the mystical Cham sculptures in the My Son Sanctuary and the typical yellow walls in Hoi An City.
Her unique paintings have been exhibited several times in Viet Nam, attracting great attention and admiration from Vietnamese art enthusiasts.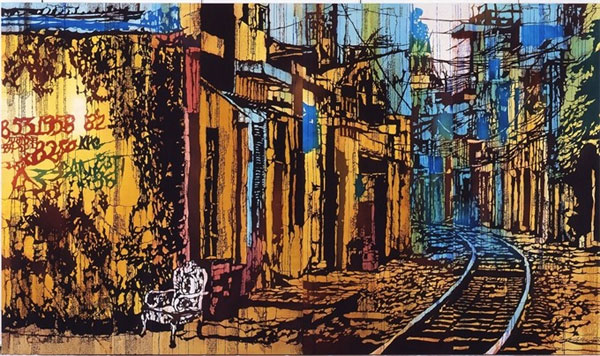 Urban track: A katazome painting by Toba Mika of a scene in the heart of Ha Noi.
Some of the previous shows held here were at the Toba Mika Exhibition to commemorate the 30th Anniversary of Japan - Viet Nam Diplomatic Relations in 2003; an exhibition called Playing the Eternal Music of Heart at the Royal Palace in Hue in 2005; and the Nara and Ha Noi Bound together with Katazome exhibition that commemorated both the 1,300th anniversary of Nara Heijo-kyo Capital and the millennial anniversary of Thang Long-Ha Noi in 2010.
In Japan, Mika has received 19 awards including "Urban Culture Incentive Award" and the "Kyoto Arts New Artist Award". She received the Foreign Minister's Award for her contribution to promoting friendship between Japan and Viet Nam through her works and cultural activities. The Vietnamese Government has also given her its Cultural Testimonial Award.
The ongoing Toba Mika's Katazome Paintings Exhibition, which has been brought to Da Nang by Menard, is an activity held to welcome the APEC Summit. It will remain open to the public until November 11.
The Da Nang Museum of Cham Sculpture is at 2, Hai Thang Chin Street. 
VNS