VietNamNet Bridge – Artisans from the Phu Binh Lantern Village in HCM City's District 11 are busy with orders this week, making traditional cellophane lanterns to celebrate the upcoming Mid-Autumn Festival.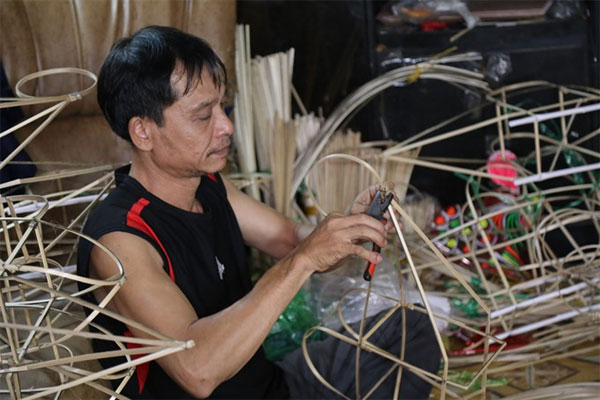 Nguyen Duc Thang, a HCM City craftsman with over 30 years of experience, makes a traditional cellophane lantern. — VNS Photos Ngoc Diep
The 50 year-old village is a traditional craft village located in the district's Lạa Long Quan Street.
Once a busy hub famous for making handmade cellophane lanterns, today only a small number of lantern-making facilities exist.
Since the 1990s, traditional Vietnamese lanterns have been facing tough competition from battery-powered, plastic products made in China.
Nguyen Duc Thang, a lantern craftsman with over 30 years of experience, said: "Chinese products have flooded the Vietnamese market for many years. Most mid-autumn lanterns in the market are made in China."
However, as modern lanterns pose safety and health risks, Vietnamese consumers have returned to the traditional product in the last few years.
In 1989, Thang began creating handmade cellophane lanterns, and now makes lanterns during his free time, especially during the mid-autumn season. Even during difficult times, his family stayed with the craft.
This year, his family began making lanterns three months ago after receiving orders for more than 2,000 lanterns, Thang said.
Many parents are buying locally-made lanterns for their kids as the poor quality and harmful effects of imported products have worsened in recent years.
"I think people have returned to handmade lanterns due to more awareness about the need for safe products and preservation of traditional values," he said.
Dung, a walk-in customer from Tan Phu District, said he would buy lanterns for his grandchildren to celebrate the festival.
"I always choose traditional lanterns because they are safe and the light of the candles is better than the light from electric lanterns," he said.
Most of the orders are from regular customers, including individuals and organisations from the Cuu Long (Mekong) Delta provinces and other districts.
"The chicken-shaped lantern is the most popular item this year because it's the symbol of the year. There are also star-shaped lanterns and animal shapes," Thang said.
The quality of the products depends on the artisan's skill to make a complete lantern, from cutting the bamboo sticks and making the frame to painting and wrapping the cellophane around the frame.
Lantern makers have made great efforts to improve the designs to meet market demand, such as designs of cartoon characters like Doraemon or Hello Kitty to attract children.
Traditional values
With the rapid development of society, the toy market for children in the mid-autumn season has changed. Many toys are imported from other countries, while traditional products are slowly disappearing.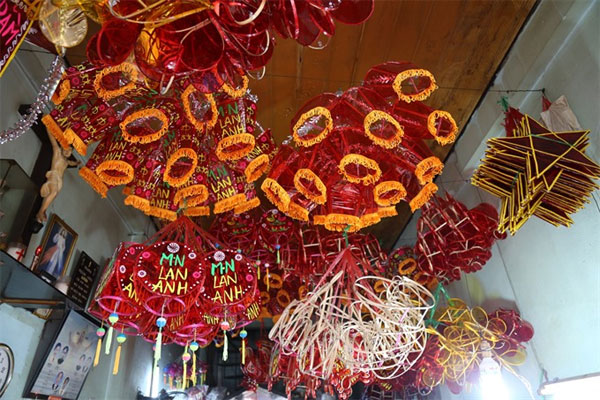 Colourful cellophane lanterns made by artisans from the Phu Binh Lantern Village in HCM City's District 11. 
However, some artisans still spend their day making lanterns in the hope that old-fashioned mid-autumn festival toys will survive and the festival's spirit from previous generations will be preserved.
Thu, a lantern maker, said she was happy to be busy again but she was worried about the cost of making lanterns.
A small lantern sells for around VND14,000 (US$0.6) while a giant shape goes for VND120,000 ($5.4). Each lantern brings about VND7,000 ($0.3) after production costs.
The craft began to be passed down from generation to generation more than half a century ago, and many older people continue to do the job because they still love it.
Some of the craftspeople say the work is their life and a memory of their lineage, and they will never quit. If someone wants a new lantern, they are happy to make one.
Besides mooncakes, lanterns are one of the most popular items sold during the Mid-Autumn Festival, which is celebrated each year on the 15th day of the eighth lunar month, falling on October 4 this year.
The festival is a special occasion for family reunions, especially for children, with many activities held.
It has been celebrated annually in many Asian countries for several hundred years.
Ngoc Diep
VNS