Thanh Chiem bastion in Quang Nam province has been officially recognized as a national relic.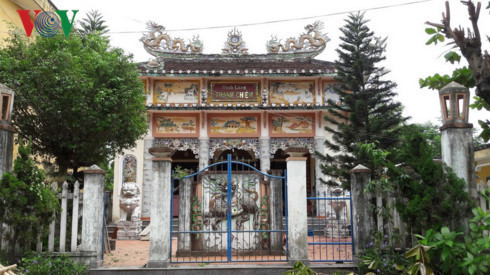 It's considered the second capital of Vietnam after Hue and the political, military, economic and cultural center of the south under the Nguyen dynasty. Today the building is in ruins but the authorities have decided to make Thanh Chiem a new tourist destination.
The bastion citadel was built in 1602 by Lord Nguyen Hoang in Cau Huc and later rebuilt in Thanh Chiem, now Dien Phuong commune becoming a very important naval base. It welcomed many Western missionaries. 
Between 1617 and 1625, Father Francisco De Pina, author of the "Methods of Latinization of Vietnamese" and "Vietnamese Grammar," learned Vietnamese, propagated Catholicism, and then taught Vietnamese to two missionaries, Frenchman Alexander de Rhodes, father of the alphabetical writing of the Vietnamese, and Antonio Fonte of Portugal. 
Experts say Thanh Chiem bastion was the venue for Western missionaries to study and create Vietnamese script in its early days.
Speaking at a recent seminar, Mr. Le Tri Thanh, Vice-Chairman of the People's Committee of Quang Nam province, said "The historical and cultural values of Thanh Chiêm are immense. Being aware of the need to preserve this unique heritage, Quang Nam authorities decided to work with relevant Ministries and agencies to restore the citadel's values."
More than 4 centuries have passed. Only ruins of Thanh Chiem hostel remain today. Long Hung pagoda and the communal house of Thanh Chiêm village are under the ground. Recently, the Department of Culture, Sports and Tourism of Quang Nam Province and the People's Committee of Dien Ban township decided to set out 12,000m2 to preserve the heritage.
They will build a replica of the former bastion and exhibit a collection of documents, materials, and stele featuring the history of the Romanized Vietnamese script. Ho Xuân Tinh,
Deputy Director of the Quang Nam Department of Culture, Sports and Tourism, said "It is very difficult to reproduce such an ancient work. We have to rely solely on existing documents. Right now, we will erect a stele that will mark the site of Thanh Chiem. 
Then we'll think about building a monument in memory of the Western and Vietnamese missionaries who contributed to the development of Quoc Ngu, the Romanized Vietnamese script."
Local authorities plan to develop Thanh Chiem into a new tourist destination. Nguyen Xuan Ha, Vice Chairman of the Dien Ban Township People's Committee, said "Today there are only ruins left in the citadel. Dien Ban authorities have specified the zone on which we will build a replica of the citadel and restore remaining vestiges to make the area a tourist destination."
Many activities have been organized to celebrate the 415th anniversary of Thanh Chiem bastion and the birth of Romanized Vietnamese writing. Rebuilding the glorious past of this building will undoubtedly contribute to the tourism and socio-economic development of Dien Ban and Quang Nam province.
VOV5