VietNamNet Bridge – A documentary about internationally renowned Vietnamese monk and peace activist Thich Nhat Hanh will be shown in American theatres beginning on September 12.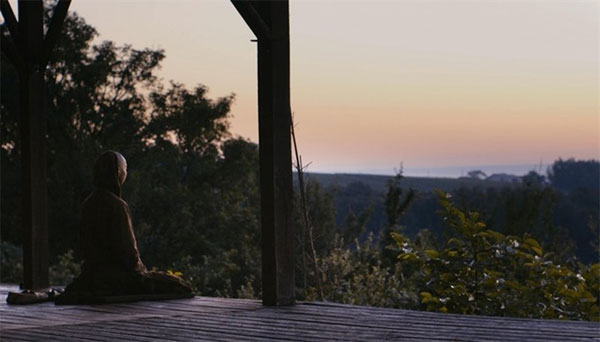 On screen: A scene from Walk With Me. Photo walkwithmefilm.com
The documentary, titled Walk With Me, was co-directed and co-produced by Marc J Francis and Max Pugh over three years in Lang Mai (Plum Village), near Bordeaux in southwest France. Lang Mai is a mindfulness practice centre founded by Zen Master Thich Nhat Hanh in 1982.
He was nominated for the Nobel Prize in 1967 and is the author of many books, including the best-selling The Miracle of Mindfulness. He is based in France where he is a widely respected Buddhist leader. The renowned monk suffered a stroke after the conclusion of filming, so the documentary captures a period of life at the center that will never again exist in quite the same way.
"When Thich Nhat Hanh suffered a life-changing stroke soon after we finished filming, it became clear that there would never be a chance to make a film with Thich Nhat Hanh and his community in this way again," Fancis said. "We therefore felt a responsibility to portray what we had experienced living with the monastics."
The idea for the documentary came to Francis by chance when he was asked to film a teaching tour with Thich Nhat Hanh in the US and Canada in 2011. At that time, he had a chance to experience monastic life for himself. Inspired by Thich Nhat Hanh's life, he teamed up with his old friend and fellow film director Pugh. 
The two directors spent a lot of time during the filming process to allow for experimentation. They worked to develop a cinematic language capable of communicating the actual experience of living mindfully. 
"We focused on an experimental approach to create a visceral and immersive experience which plunges the audience deep into the poetry of the present moment — a feeling so elusive in the reality of the daily grind," Francis wrote on the website of walkwithmefilm.com.
The documentary, narrated by English actor Benedict Cumberbatch, premiered at SXSW Film Festival last March. It was also screened at the Rubin Museum of Art in New York last month with a question and answer session with the film crew and sangha leaders from Lang Mai. 
"I loved how the filmmakers capture and convey, cinematically, the sometimes inexplicable state of being awakened," said Oscar-winning director Alejandro G. Inarritu on Variety. "It gives a hint of that quiet voice so underrated today and ironically so needed in this time of fear and ignorance." He adds that he attended a 21-day retreat at Lang Mai in the presence of the Buddhist master. 
"I truly believe that Thich Nhat Hanh is one of the most intelligent people alive," the director said. "His spiritual wisdom and scientific knowledge is this unique blend of quantum physics and Buddhist tradition."
Walk With Me will be screened in Europe at the same time it is released in the US. It will open in Asia on September 21 and in Australia on October 11. 
Monk Thich Nhat Hanh recently spent visiting his homeland in the central province of Thua Thien Hue. 
VNS