Behind the glamour curtain, Vietnamese circus athletes have to practice hard and even sometimes encounter unexpected risks in their occupation. Overcoming difficulties, they have made tremendous effort to make the circus more attractive to the audience and have excelled at many prestigious international festivals, thus advancing Vietnamese circus arts.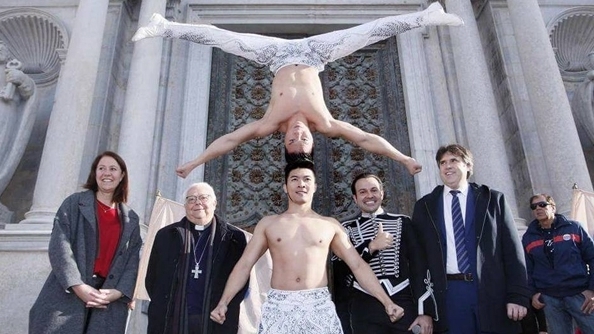 Vietnamese circus brothers Giang Quoc Co and Giang Quoc Nghiep break world record in head-to-head balance stunt in Spain on December 23 
An occupation where death still actually matters
At the end of 2016, Vietnamese circus brothers Giang Quoc Nghiep and Giang Quoc Co brought a nice surprise to international audiences with their head-to-head balancing act by scaling 90 stairs in 52 seconds on the steps of Girona Cathedral in Spain. 
Their act broke a Guinness world record, which was previously set by Chinese duo Tang Tao and Su Zengxian, who climbed 25 consecutive stairs in a minute using the same technique in September 2014.
However, before achieving the success, the Giang brothers had to spend dozens of years to practice the act. 
Previously, in a programme abroad, Quoc Co missed a step, which caused a serious head injury to his brother Quoc Nghiep. 
The hard practice has also made the two artists suffer from degenerative disc disease, which is one of the more common causes of low back pain and neck pain.
Duong Quyen, an artist from the Vietnam Circus Federation, shared that when she was a student at the Vietnam Circus and Vaudeville School, her parents came to visit her and witnessed how painfully their little daughter had to practice everyday, they immediately asked her to quit the study. 
However, she didn't accept the request but followed her dream.
When they heard that she and her team won a gold medal at the International Circus Festival in Spain for the 'Superman Swing' repertoire, her mother decided to watch the circus live. 
But upon looking at Quyen "flying without wings" from here to there, she left the audience room. 
"It frightened her so much that from there, she has not dared to watch me perform again," Quyen said.
While Quyen's parents live with the fear of possible risk for their daughter, parents of Meritorious Artist Tuyet Hoan were heart broken when she had a horrific accident. 
Once when Hoan was practicing an act of swinging in the air, an accident occurred for unknown reasons, causing her to fall down to the ground. 
The accident happened four months after Hoan's marriage. She had to lay motionless in bed before being able to sit in her wheelchair.
Three years have passed, but it has still been a shock to her parents. They cannot believe that their once active daughter can now only sit in a wheelchair. 
Being disabled for performing, Hoan now works as an instructor for young circus performers. 
She has contributed to diversifying Vietnamese's circus repertoire and helping young colleagues learn how to protect themselves while performing.
Efforts made to make circus act more attractive to audiences
Vietnamese traditional costumes are used to bring a blend of Vietnamese culture to circus repertoire.
In the past, the circus in Vietnam was underestimated as it lacked artistic characteristic. However, over the past decades, Vietnam's circus has now shined at international festivals thanks to the athlete's efforts to make their acts more attractive to the audience.
Since 2012, the Vietnamese circus delegation has won at least three gold and silver medals at the prestigious international circus festival. 
The delegation recently bagged a silver medal at the 33rd Golden Circus Festival held in Rome, Italy in January 2017 for the acrobatic circus performance involving leather straps by artists Van Thai and Thu Huong from Vietnam Circus Federation.
Vietnamese artists then triumphed at the Circuba international circus festival in Cuba's capital city Havana from June 25 – July 2 this year. 
Using sophisticated techniques and Vietnamese characteristics such as bamboos and traditional folk music, the aerobatics performance "Canh chim Viet" (Vietnamese wings) by Ngoc Anh and Thu Thuy artists, delighted spectators and jurists, winning a gold medal, the highest prize at the event.
According to People's Artist Ta Duy Anh, Director of Vietnam Circus Federation, there are four to five major circus competitions held every year around the world, each attracts the participation from 18 to 20 countries across the globe. 
A circus act competing at international circus festivals is evaluated based on the two factors of techniques and creativity.
Regarding technique, Vietnamese athletes are in the same line with their opponents from other countries; but Vietnamese circus acts have won the votes of the international jury thanks to the athlete's initiatives in using props and blending national cultural identities in their performances.
Most of the Vietnamese circus acts which won international prizes are staged based on the country's traditional culture. 
The audiences not only watch circus performers conquering dangerous moves but they are also provided with an opportunity to explore the life and culture of Vietnam. 
Bamboo, rattan, straw and fishing nets are brought onto the stage as props, folk music and traditional costumes are also used to bring a blend of Vietnamese culture to the repertoire.
A call for preferential policy to develop Vietnam's circus
Circus artists practicing hard for performance
The living conditions of circus athletes are still difficult, which is partly due to the fact that Vietnamese people are less interested in the circus. 
In addition, the equipment and infrastructure for practice and performance have not yet met world standards, which has created a lot of obstacles for circus athletes.
There is the fact that most of the award-wining Vietnamese circus performers have been invited to perform abroad, and are paid more generously than at domestic stages.
According to Pham Dinh Thang, Deputy Head of Performing Arts under the Ministry of Culture, Sports and Tourism (MoCST), there has not yet been a specific policy for those working in circus arts. 
In the time to come, the department will work to put forward such a policy and submit it to the MoCST for consideration.
In 2015, the 12 circus athletes who joined the group performance of 'Lang Toi' (My Village) act submitted their resignation at the same time in order to seek a better paid job. This act set an alarm for the necessity of a sound treatment policy for circus artists.
It takes time and tremendous effort to train good circus athletes, who are required to be skilled at not only physical health and instinctual talent, but also require high determination to embrace any hardship that comes with the occupation. 
Every year, the Vietnam Circus and Vaudeville School receives 7,000-8,000 submissions, around 35 of which are selected after a thorough assessment to be permitted at the school. Only 20 of them can make it to graduation, and the number of famous and well-paid circus athletes is even fewer.
Circus artists have faced many obstacles and their success is essentially based on their leaders' capacity and their own efforts. 
They need a preferential treatment policy to live well with their occupation, thus nurturing their aspirations at work.
Nhan Dan