VietNamNet Bridge – A retired professor has opened a book stall in Ha Noi, inviting passers-by to read books and newspapers for free. Drinking water, electricity, and reading glasses are also available.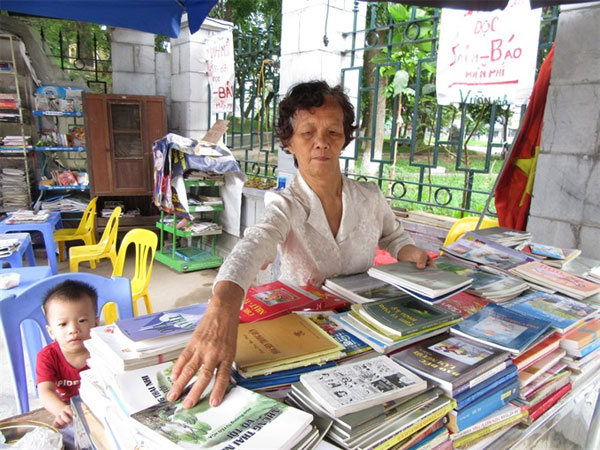 Passion for reading: Retired professor Pham Thi Huyen Dung opens her book stall at 6.30am every day. — Photos: Bach Lien/VNS
Every day at 6am, an old woman carries huge piles of books and newspapers from her house to a modest book stall in front of her house on Dang Tien Dong Street. The mini library is free for passers-by and neighbours to peruse and enjoy.
The woman, Pham Thi Huyen Dung, is well-known among the local residents. At 72 years old, she retired from her job as a lecturer at the Ho Chi Minh National Academy of Politics. In February this year, she took advantage of the vacant land in front of her house and set up a stall where she displays old books and newspapers that can be read for free by everyone.
The book stall is located just behind the Dong Da Mound on Dong Da Street, in front of her house at 56 Dang Tien Dong Street. It often attracts significant attention from people walking past. Readers of all ages come to the library to find books they want, or maybe some surprising items.
Waste not, want not
The idea came to her a few months ago. February marked 50 years since she became a member of the Communist Party of Viet Nam. Every day, she receives a free copy of the Ha Noi Moi newspaper as a reward for her fidelity to the organisation and contributions to the country.
"When I read it alone, I found it a pity that many other people were not able to read it. I wished that I could share the knowledge I gained from reading this newspaper with other people… Then I thought of inviting other people to read with me, for free," she recalls.
"I hope that people will actively spend their free time reading newspapers and books, along with me, and together we can collect books, so many other people can read too," she says.
Her book stall is open from 6.30am to 10.30pm.
At the start of the project, the stall had a small selection of newspapers and some old books on health and spirituality. After a few weeks she began to meet people from her neighbourhood who dropped by the stall to look for books before their morning exercises. Noticing the popularity of the idea, she bought other books and newspapers to give her readers a bigger choice and a variety of themes. Touched by her kindness, people of all ages, from old retirees to students, donated books to Dung.
Dung recalls that at the beginning, not many people were interested in her book stall.
"At first, I had to invite passers-by to sit down and spend time reading. Many people didn't believe in my sincerity… It took time to earn people's confidence," she recalls with a big smile
She also offered plastic chairs, and free water to her readers. The book stall became a hub for the community, with several people donating objects to make her job easier.
A neighbour offered her an iron bookcase, a scrap-iron dealer offered her some shelves, while another neighbour gave a parasol.
"I got the support of many people. But some other people thought that I was a little mad. But each time I saw elderly people and children reading my books with enthusiasm, I realised I was doing something very useful," Dung says.
Community service: Readers can find books on a variety of subjects at Dung's free book stall.
Nguyen Ngoc Tuyet, a student who often goes to the stall to pick up newspapers, said: "I can find many interesting books about nature and science. I love those two subjects, and it's nice to be able to read them here for free. Even in summer it's hot but this spot is very comfortable, as there is water, and seats under the shade of the trees," she says.
Dung is sad to see that reading culture is gradually being lost among Vietnamese people. But young students like Tuyet inspires some hope that she can contribute to making books popular again, even if it's just in her local neighbourhood.
"A good book is like a good friend to anyone. It will stay with you for the rest of your life. So we should preserve it and share it with other people in need," Dung says. 
Bach Lien
VNS