Hanoi authorities have approved a project to build a theater on a lake in a park, to create a unique new entertainment venue for residents.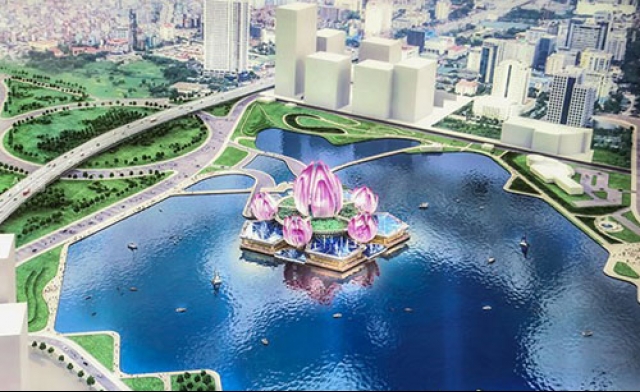 On 4 ha of water surface, the six-level opera house, to be known as Hanoi Lotus, is designed in the shape of a large lotus blooming on water, the national flower of Vietnam. 
It has a capacity of 2,000 seats in an entertainment area, and also includes an ice-skating rink, cinemas, an advanced technology development center, restaurants, and office space, capable of catering to 25,000 local people and tourists in the capital. 
It will be equipped with the latest facilities and be the city's largest and most modern theater.
It will be located at the CV1 Park at the intersection of Duong Dinh Nghe and Pham Hung Streets, which features 19 ha of water surface surrounded by green trees and public services. 
Construction of the park began early this year and will be completed at the end of 2018. With private investment, the theatre is expected to open in October 2019. 
"The new theatre will attract people on the weekends, holidays and festivals," Chairman of the Hanoi People Committee, Mr. Nguyen Duc Chung, said, adding that there would be more entertainment centers built in Hanoi in the future, giving the capital a new appearance.
Hanoi plans to plant 1 million more trees and build 25 parks over the next five years. It plans to finish construction of four parks this year: Mai Dich Park, Nhan Chinh Park, a park in the Duong Noi new urban area, and Phung Khoang Lake Park. 
It will call for investment in eleven other parks in different parts of the city by 2020. Horse racing track projects are also under construction.
VN Economic Times