VietNamNet Bridge – Theatre director Viet Tu, whose art shows are big hits in Viet Nam, has continued his run of successes with his latest show Thua Ay Xu Doai or The Quintessence of Tonkin. Inspired by the traditional art form of water puppetry, more than 100 real farmers and villagers are part of the show that has won rave reviews from critics. Director Tu spoke to Thuy Hang about his work and inspiration.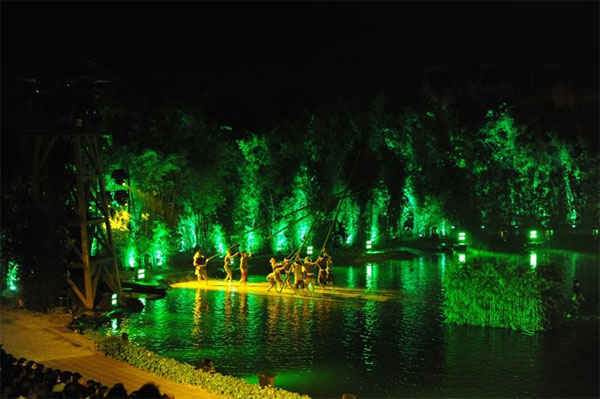 The Quintessence of Tonkin is the first show in Viet Nam presented on a stage set up on a 1.5-hectare lake with a real-life background.
What gave you the idea for a show like The Quintessence of Tonkin?
I've always maintained the habit of traveling all over the world to see new things, to observe other cultures and find new ideas for future projects. After years of visiting many art centres all over the world, I have nurtured a dream to produce a series of my own art shows dedicated to traditional Vietnamese art forms so that foreigners can appreciate the beauty of Vietnamese culture.
So the first show of the series, called Tu Phu or Four Palaces premiered at the end of 2015. This was an artistic interpretation of hau dong, a traditional ritual in which a medium is possessed by several deities.
The Quintessence of Tonkin follows the first one. It was produced with investment from the Tuan Chau Group.
This was the first ever show in Viet Nam presented on a stage set up on a 1.5-hectare lake  with a real-life background. Why did you decide that water puppetry would be the core of the show?
I can say that I grew up amidst lacquered puppets because my mother is a puppetry artist with the State Puppetry Theatre. Since I was a little boy, she took me with her to every corner of the Red River Delta to meet artistes of different traditional art forms like puppetry, cheo (traditional opera), and tuong (classical drama). Naturally, all these cultural values have been absorbed into my blood. Later on, it was mixed with modern ideas of a person who has spent many years studying and living abroad.
Another reason is that Sai Son Commune in Ha Noi's suburban district of Quoc Oai, where The Quintessence of Tonkin has been staged, is the birthplace of water puppetry.
Monk and zen master Tu Dao Hanh (1072-1116), who spent his life at the Thay Pagoda in the village, is considered the ancestor of this art form. That's why I decided to choose water puppetry as the core of my show. However, presenting a traditional art form in a modern style is tough.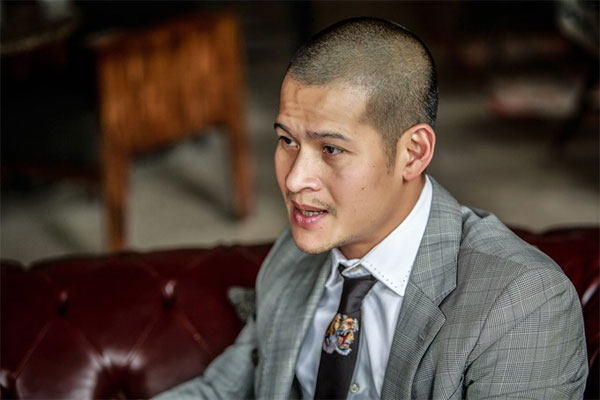 Theatre director Viet Tu.
The show has wowed audiences with several surprising details including a life-size 10-tonne replica of the Thuy dinh (pavilion on water) resurfacing on the lake. How could you do this?
I have to thank the investor, who agreed to support the creation of a replica of the original thuy dinh which was built during the Ly Dynasty (1010-1225) on the village's Long Chieu Pond. The investor agreed despite the high expenditure involved.
Modern technology, including the use of elevators, also made this possible. Despite bearing the huge water pressure at a depth of 10 metres, the replica has to emerge within 1.5 minutes, and to move stably every day.
Apart from directing the show, you are also the one who decided on the outline of the stage, the surrounding space with bamboo and clay tile-roofed house. Do you also act as a landscape designer?
It is not far off to say that I am the only one who knows exactly what we need for the show, but my team and I worked together to produce a complete outline for the area that I named "the Northern village cultural space". It's a stage with real-life background, making my show unique and different with others. It vivifies the show significantly.
Many people have said that no one but you have the ability to create such a marvellous show, and it is rumoured that it cost several million dollars. How could you persuade the investor to back such a venture?
Soon after we met, we agreed that our goal would be to create a high-quality cultural production that can promote the beauty of Vietnamese culture to foreigners.
Inspired by the Viet Nam's traditional water puppetry art form, The Quintessence of Tonkin has been staged by more than 100 farmers and villagers.
I'm lucky that the investor also approved my idea to turn 140 local farmers and villagers to be performers. They are the ones who truthfully bring the soul of a Red River Delta village into the show. I'm sure that the show wouldn't have succeeded without them.
You are a pioneer in presenting unique shows. You presented contemporary art and video art in concert, Nhat Thuc (Eclipse) of diva Ha Tran in 2002, then the four-act 'fashion play' Con Ac Mong Cua Nguoi Tho May (The Dressmaker's Nightmare) in 2006, and now this? Do you feel the pressure of having to do something new all the time, of being a pioneer?
I don't think so. Instead, I look to turn this so-called pressure to be a motivation that challenges and pushes me to work harder. Wherever I go and whenever I return to Viet Nam, I see a "sea" of opportunities in the country's rich culture to be creative. 
VNS